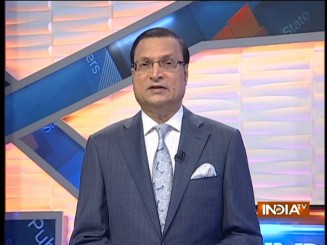 The CBI may go in for polygraph tests of actor Rhea Chakraborty and several others in Sushant Rajput death case. These may be conducted in Delhi by Central Forensic Science Lab. On Saturday, CBI began another round of questioning of Siddharth Pithani, servant Niraj, cook Keshav and accountant Rajat Mewati, with Rhea scheduled to be questioned late in the day.
On Friday, CBI had questioned Rhea for nearly ten hours. During the interrogation, sources said, Rhea told the CBI sleuths that Sushant was habitually consuming marijuana before he met her for the first time. She reportedly told CBI that she tried to wean him away from drugs and took her to a psychiatrist for treatment of mental depression. Rhea also reportedly told CBI that she never consumed narcotics in her life, nor did she ever purchase them. She also told CBI sleuths that Sushant's mother's death was due to mental depression.
Rhea's claims about Sushant taking drugs and his mother dying of mental depression, were, to say the least, shocking. Expectedly, Sushant's family members reacted sharply. Sushant's sister Shweta Singh Kirti posted pictures of the WhatsApp conversations between Rhea and her associates which clearly showed that she procured drugs from peddlers. "What was going on…what are we to conclude?", she tweeted. In another tweet, which showed Rhea claiming that she bought a flat in Khar with loan from a bank, Shweta tweeted: "You are worried about how you will be paying 17,000 in EMI, please tell me how are you paying the most expensive lawyer of India you have hired?" In another tweet, she write: "When you are trapped in the web of your own lies.. you sound insane!!"
During interrogation, Rhea repeatedly told CBI sleuths that Sushant was not on the best of terms with his family members. She rejected charges that she had persuaded Sushant not to keep in touch with his father and sisters. In course of questioning, she mentioned how Sushant planned to go to Chandigarh to stay with his sister for a long time, he himself drove all the way to Chandigarh but stayed with her sister for hardly two days. Siddharth Pithani also confirmed Rhea's claim about the Chandigarh trip.
Pithani had told CBI that Sushant wanted to stay with his sister in Chandigarh for nearly a month in January, he had planned to go by road with stops in Ahmedabad and Gurugram. Pithani said, Sushant fell ill while staying in a hotel in Gurugram, he was given medicines prescribed by his doctor, reached Chandigarh but returned after barely two days. On the other hand, Sushant's sister is on record having said that it was Rhea who tried her best to prevent Sushant from going to Chandigarh and forced him to return after giving him threats over phone.
Sushant's sister Shweta Singh Kirti alleges that in January, Sushant had made an urgent call to Rani Didi, told her that he was being given drugs and has been confined in isolation. Sushant told his sister that he wanted to come out of this isolation and wanted to go to Chandigarh. The moment he reached Chandigarh, Rhea made at least 25 phone calls to him in three days and forced him to return. Shweta wants to know why Rhea was in a hurry to call back her brother.
Rhea has told CBI that she was taking care of Sushant's health for the last several months and she had expected his family members to cooperate, but none of them came forward. Rhea also said that Sushant has not spoken to his father for the last five years, and in support of her claim, she asked the sleuths to check the call detail records of his father and other family members. Rhea said, Sushant's father used to take details about his son from others, but rarely spoke to his son directly.
In reply, Sushant's family members released videos of May 14 and 15 last year, when Sushant had visited his family in Bihar. The videos relate to the 'griha pravesh' ceremony at the new house of his cousin and BJP MLA Niraj Kumar Babloo in Saharsa. Sushant had visited his cousin's new home with his father. After pooja, Sushant went to his native village and prayed before the 'kul devi', played cricket with youngsters and spoke to the media.
In our prime time show 'Aaj Ki Baat' on Friday night, we showed videos of Sushant trying to protect his father from the surging crowd of fans in Bihar eager to come nearer to the actor. The video clearly shows Sushant clearing the way for his father to walk. In the video, at one point, Sushant was seen waiting for his father to come forward, the father comes up and Sushant holds his father's hand to walk ahead. Nowhere is any sort of personal bitterness evident between the two. This flies in the face of Rhea's allegation that Sushant was not on good terms with his father. Another lie nailed.
Sushant's cousin Niraj Kumar Babloo has said that Sushant toured three districts with his father and himself last year, and attended several events. He said, being a famous actor he was busy and could hardly give time to his family members, but it does not mean that he was not on good terms with his family.
Rhea had claimed that Sushant's mother died of mental depression. Sushant's cousin Niraj Kumar Babloo's statement nailed this lie. He said, Sushant's mother Usha Singh, died on December 13, 2002 in Patna's Chand Memorial Hospital, after she suffered brain haemmorhage because she fell in her bathroom and had head injuries. She died in the hospital after two days. She never suffered from mental depression, said Sushant's cousin.
CBI sleuths asked Rhea in detail what exactly happened on June 8 when she left Sushant's flat all of a sudden. CBI sleuths wanted to know what exactly was the trigger point that caused her to leave the flat abruptly and why did she block Sushant's phone calls. Our sources say that Rhea did not give any satisfying answer to the CBI and tried to obfuscate.
In her earlier written statement, Rhea had said that she left the flat of her own accord, but her current position is that Sushant asked her to leave. When asked why Sushant asked her to leave, Rhea could not give a satisfying answer. She only said that since his sister Mitu was going to come, he asked her to leave. Rhea stuck to her original statements that Sushant's sisters did not like him, and it was only she who was taking care of the actor.
Sushant's sisters have rejected Rhea's claim as sheer lies. Even Siddharth Pithani has told investigators that Mitu took great care of Sushant from June 8 till June 13, a day before the actor died. Pithani has said that it was because of his sister Mitu that Sushant started feeling good and was beginning to regain confidence. Since Mitu had to return on June 13 to look after her children, she left the flat and the next day, the tragic act took place.
Sushant's death mystery is becoming more and more complex because Rhea and Sushant's sisters are speaking in two different directions. Rhea says, Sushant was suffering from mental depression, his sisters say that he was alright and it was Rhea who made him mentally insecure and took charge of his life. Rhea says, Sushant was not on good terms with his father and sister, Sushant's family members have come forward with videos to nail her lies.
Rhea says, Sushant asked her to leave the flat on June 8, Sushant's sisters say that the actor had been telling Rhea to leave since May. Rhea says, she took much care of Sushant, but his sisters say, if Rhea really cared about him, why did she not tell them at the time of leaving about which medicines to give and which ailment he was suffering from. The family members ask, why Rhea changed Sushant's cook, driver and bodyguard. Rhea says, she did not change any staff, they were there from the time she came to the flat.
Family members allege that Rhea and her brother diverted Rs 15 crore from Sushant's accounts, Rhea says, she has submitted all the bank account details to ED. Sushant's sister says, giving medicines to somebody by saying that he was mentally depressed amounted to manipulation, Rhea says, Sushant was already consuming marijuana before he had met her.
With so many contradictions, investigation into each and every charge becomes a complicated job, and to name somebody as guilty at this point of time is very difficult. Presently, I can only say that a large number of people in India sympathize with Sushant's father and his family who had to bear the loss of their renowned son, and for Rhea, she has to prove that she is innocent. She has also to prove that her brother and family members are innocent, because her family is facing investigation.
From the reports that we gather from our sources, Rhea's problems are going to increase in the coming days. Revelations made from WhatsApp messages that Rhea had deleted and since retrieved by ED, points towards a narcotics angle in the whole episode. She has a lot to answer.