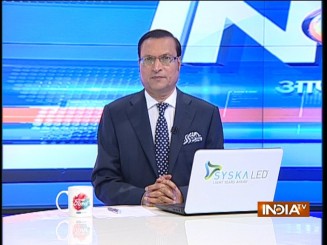 On Wednesday night, in my show Aaj Ki Baat, India TV for the first time unveiled the first look of the statue of Sardar Vallabhbhai Patel, which will be dedicated to the nation by Prime Minister Narendra Modi on the 143rd birth anniversary of The Iron Man of India on October 31.
Named Statue of Unity, it is 182 metres (597 feet) tall from the plinth level and 240 metres tall from the river base of Narmada. It faces the Narmada Dam. It is located on a river island Sadhu Bet near Vadodara. Spread over 20,000 sq. metre of project area, the statue will be surrounded by a huge artificial lake.
This is the tallest statue in the world, taller than the tallest one presently, Spring Temple Buddha, in China, which is 128 metres tall. Modi had laid the foundation of the Statue of Unity five years ago, on October 31, 2013, when he was the Chief Minister of Gujarat. This shows the visionary approach of Prime Minister Modi, who insisted on sticking to the schedule.
Vallabhbhai Patel was India's first Deputy Prime Minister and Home Minister, and one of the chief disciples of Mahatma Gandhi. He led the satyagraha in Bardoli, after which he earned the nickname Sardar. Soon after Independence in 1947, Sardar Patel with his diplomatic skills and foresightedness brought about the merger of 565 princely states in the Indian Union. The Statue of Unity is a befitting gift to the people of India in memory of the Iron Man.
Sardar Patel was one of foremost leaders of Congress party. Before independence, most of the state units of Congress party wanted Patel to become the Prime Minister, but the mantle ultimately fell on Jawaharlal Nehru.
After his death, the Congress party did not give him due honour. The Bharat Ratna was bestowed on him posthumously in 1991, 41 years after his death in 1950. The Statue of Unity shall eternally stand as a symbol of the great contribution made by Sardar Patel, who has also been described as the Bismarck of India.
Click Here to Watch Full Video | Get connected on Twitter, Instagram & Facebook