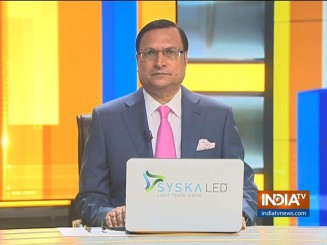 The Jain community has expressed satisfaction over the Centre's decision on Thursday to preserve the sanctity of Sri Sammed Shikhar in Parasnath, Jharkhand. This move came after nationwide protests by members of Jain community against the previous decision to develop Parasnath as a tourist spot.
In an office memorandum issued in pursuance of the Cabinet's decision, the environment ministry on Thursday directed the Jharkhand government to immediately take all steps necessary to ensure that the ban on tourism and other activities such as use of liquor, non-vegetarian food, use of loud music, unauthorised camping and trekking in Parasnath sanctuary is enforced.
The ministry has modified with immediate effect the eco-sensitive zone (ESZ) notification on Parasnath sanctuary accordingly. The Parasnath Hill comprises the sanctum sanctorum of Jain religion in Giridih district of Jharkhand.
The environment ministry has also constituted a committee for monitoring of the enforcement of provision of the modified ESZ notification in Parasnath. Two members from Jain community and one member from local tribal community will be included in the committee as permanent members.
Environment Minister Bhupendra Yadav said, Sammed Shikharji Parvat (Parasnath Hill) is the most sacred and revered Teerth Sthan (pilgrimage) of Jain religion. "The Centre recognises the sanctity and significance of this place for the Jain community, and is committed towards maintaining the same", he said.
The Centre has stayed the implementation of Clause 3 of the ESZ notification that relates to the buffer zone beyond the sacred Parasnath Hill including among others all tourism and eco-tourism activities. Jain saints and other leading members of the community have welcomed this decision of the central government.
In an interview in my prime time show 'Aaj Ki Baat' on Thursday night, Jain saint Acharya Nayan Padmasagar Ji Maharaj praised Prime Minister Narendra Modi as "adhyatmik yugpurush" (spiritual statesman) and said, "we knew he would accept our demand and we are very much happy. Protection of our pilgrimage spot will surely ensure preservation of India's great spiritual legacy."
It is a matter of happiness that the Centre has corrected a mistake that was done four years ago when Parasnath Hill and sanctuary was declared a tourist spot. The Jain community was apprehensive that the sanctity of the pilgrimage spot could be despoiled if tourists are allowed to come in hordes and consume liquor and meat. It is also admirable that the Jain community held peaceful protests throughout the country to convey its feelings to those in power. There was no untoward incident despite congregation of thousands of members of this community in different cities.
This is a sterling quality of our peace-loving Jain community. The Jain community in India numbers hardly 50 lakhs, which amounts to only 0.45 per cent of the population. Others should learn from the peace-loving Jain community. Even though they form a miniscule proportion, they conveyed their demands in a peaceful manner. Naturally, in a democracy, their voice was heard and the government took action.