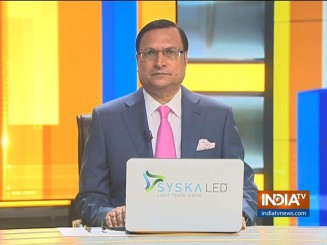 The ongoing tussle over Shiv Sena properties and acccounts between Eknath Shinde and Uddhav Thackeray factions has reached the Supreme Court, with the Thackeray faction urging the apex court to stay the Election Commission order. The Election Commission had granted recognition to the Shinde faction as the real Shiv Sena and allotted the official party symbol 'bow and arrow'. The Thackeray faction now fears that the Shinde faction will take over Shiv Sena properties and bank accounts in pursuance of the EC order.
Uddhav Thackeray is more worried about the party properties, after having lost recognition and official election symbol. Uddhav's senior advocate Kapil Sibal told the apex court on Tuesday that unless the "erroneous" EC order is stayed forthwith, the Shinde faction will take over everything, including the assets of Shiv Sena and its bank accounts. "They have already taken over the Sena political party office in the assembly", Sibal told the bench of Chief Justice D Y Chandrachud, Justice Krishna Murari and Justice P S Narasimha.
On Tuesday, the Shinde faction took possession of the Shiv Sena parliamentary office inside the Parliament complex. Out of 19 Lok Sabha MPs that the undivided Shiv Sena had, 13 have switched to the Shinde camp, while six LS MPs and three Rajya Sabha MPs are now left with the Thackeray group.
The Shinde-led Shiv Sena national executive, in a meeting in Mumbai on Tuesday, gave all powers to the chief minister to take decisions relating to the party. Shinde clarified that the party would not stake claim to anyone's property or funds, but the Thackeray faction is now on full alert.
On Tuesday, Thackeray camp leader Sanjay Raut brought a 'rate card' alleging that "rates" have been fixed to induct MLA, MPs, corporators and Shakha Pramukhs by the rival camp. He alleged that Shinde has appointed agents for "purchasing" party leaders. Raut said, Rs 75 crore is being offered to each MP, Rs 50 crore to each MLA, Rs two crore to purchase each corporator and Rs 50 lakhs is being offered to buy each Shakha Pramukh. He alleged that nearly Rs 2,000 crore has been spent for buying leaders during the last five months. State minister and Shinde camp leader Deepak Kesarkar rubbished the allegation as baseless. He said, 'Sanjay Raut appears to be desperate and frustrated'.
Sources in Shiv Sena say, the party has presently nearly Rs 382 crore worth properties, out of which Rs 186.83 crore is in the general fund, Rs 172 crore has been locked in investments and Rs 3 crore in fixed deposits.
Uddhav Thackeray fears all these funds may be taken over by the rival camp. He is also apprehensive about the party headquarters Shiv Sena Bhavan and Matoshri bungalow. Sanjay Raut claims that Shiv Sena Bhavan is a trust property and it does not belong to the party. He is right. Shiv Sena Bhavan, built in Dadar, Mumbai, is the property of Shivaya Seva Trust set up by party founder Balasaheb Thackeray in 1966. Work on the Sena Bhavan began in 1974 and was completed in 1977. The original owner of the plot was a Muslim, Umar Bhai, who donated it to Shivaya Seva Trust.
Balasaheb Thackeray was never a member of this trust. The trust has Balasaheb's wife Meenatai Thackeray, Hemchandra Gupta, Vaman Mahadik, Madhav Deshpande, Sudhir Joshi, Liladhar Dake, Shyam Deshmukh, Kusum Shirke and Bhalchandra Desai, all founding members of Shiv Sena. Later Kusum Shirke, Shyam Deshmukh and Bhalchandra Desai resigned, Meenatai Thackeray, Vaman Mahadik and Hemchandra Gupta passed away.
Later Uddhav's close confidantes Arvind Sawant, Ravindra Mirlekar, Visakha Raut, Subhash Desai and Diwakar Raute were made trustees. Till 18 months ago, Uddhav Thackeray was not part of the trust, but after he became the Chief Minister, his name was added as a trustee. Meanwhile, a legal firm in Mumbai has sent a notice to the Commissioner of Charities questioning how a trust property can be used for political purposes.
'Matoshri', the five-storeyed building built by Balasaheb Thackeray, may also be embroiled in controversy. Shinde camp may stake claim to 'Matoshri'. The late Balasaheb Thackeray had kept two out of the five floors of the building for his family. He had made this clear in his will. The ground floor, which includes a hall, has been kept for Shiv Sena meetings, there is a hall on second floor, Ambey Mata temple on third floor, Aditya Thackeray's Yuva Sena office is on the fourth floor, and on the fifth floor is Uddhav Thackeray's office.
On Tuesday, Sanjay Raut wrote a letter to Deputy CM Devendra Fadnavis and Mumbai police chief alleging that Eknath Shinde's son Shrikant Shinde has given a 'supari' to murder him to a gangster named Raja Thakur, who has recently come out of jail. Fadnavis immediately reacted saying he did not know whether Raut has written this letter seeking security or to create unnecessary sensation. He promised to get the matter investigated.
The entire issue revolves around who will ultimately take over the Shiv Sena, the party that was neither built by Uddhav Thackeray nor by Eknath Shinde. The properties of Shiv Sena, like Shiv Sena Bhavan and Matoshri, were neither built by Uddhav Thackeray nor by Eknath Shinde. All these properties were created by the late Balasaheb Thackeray. It was he, who over the years, built the organisation, the party and its properties, brick by brick, with the help and contribution of millions of Shiv Sena workers.
Uddhav Thackeray is staking claim on Balasaheb's legacy, Eknath Shinde is laying claim on Balasaheb's ideology, but the fact is: it was Shinde who cheated Uddhav Thackeray, who was made Shiv Sena Pramukh by Balasaheb. But Uddhav, on his part, by entering into alliance with Congress, cheated his father's legacy. How can they claim to be successors of Balasaheb Thackeray?
Throughout his active political life, Balasaheb Thackeray never aspired to become chief minister. He never staked his claim on any property or trust, when he was alive. Had Uddhav and Shinde followed Balasaheb's principles and ideals, Shiv Sena would not have split. The flames of the current crisis are now raging in the minds of millions of Shiv Sena 'karyakartas', who revered Balasaheb as their Supreme Leader. They are now at a loss: Where to go?