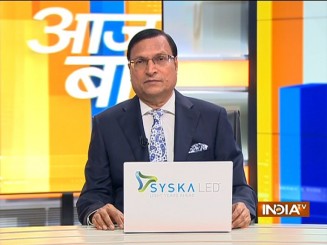 Ajit Pawar outplayed his uncle Sharad Pawar in the battle of nerves in Mumbai on Wednesday, with 32 NCP MLAs supporting him and only 16 MLAs attending Sharad Pawar's meeting. Ajit Pawar proved that he has the support of most of his MLAs and his partymen, and has the backing of the government. He is hopeful of getting the party name and symbol from the Election Commission. Buoyed by the strength that he derived from his supporters, Ajit Pawar, for the first time, openly spoke about his uncle and exposed his political chicanery. The nephew, in so many words, described his uncle as 'paltu ram' (opportunist). Hearing Ajit Pawar's speech, I felt as if the nephew was suffocating all these years under his uncle's shadow. His pent-up anger erupted like a volcano during his speech. It was sad to watch Sharad Pawar, the patriarch who ruled Maharashtra politics, listening to what his nephew was saying. But, Sharad Pawar himself is responsible. He overlooked his nephew Ajit Pawar's political ambition, failed to gauge the aspirations of his MLAs, and continued to ignore the sane advice of his friends. Uncle Pawar was ensconced in his make-believe world thinking nobody can ever dare to stand up against him. Throughout Tuesday night, Pawar Saheb rang up his MLAs asking them to attend the meeting. Even on Wednesday morning, he tried to persuade some of his leaders who had revolted. Only 16 MLAs attended his meeting. It was then that the patriarch realized that the game was up. Had he listened to the advice of his well-wishers like Praful Patel, he would not have seen this day. Politics is a game of numbers. And nobody knows it better than Sharad Pawar. Today, the numbers are with Ajit Pawar and Praful Patel. Today I felt, it would have been better for Pawar Saheb, who was to retire anyhow someday, to opt for an honourable retirement after listening to Ajit Pawar and Praful Patel. But I am not surprised that Sharad Pawar, despite all this, is still adamant. He still thinks it was he who made his MLAs victorious, made them leaders, and he could defeat them in a political battle. I would like to salute Sharad Pawar's courage that despite health and age acting as obstacles, with all those whom he groomed has leaders leaving him, the patriarch is still ready to enter a new political battle. Though he knows Modi will win in 2024 and BJP-Shiv Sena-NCP alliance will be a sure winner, yet he is unwilling to concede defeat, nor back out from the fight. It is because of his courage that he is known as Sharad Pawar, and Supriya Sule says, his name is enough.
LALU YADAV: 'Taaqat abhi baaki hai?'
Like Sharad Pawar, Lalu Prasad Yadav is a patriarch who will never concede defeat. On Wednesday, as the trial of strength was going on in Mumbai, Lalu Yadav was addressing his partymen in Patna to celebrate RJD foundation day. Lalu blamed BJP and Modi for "destroying" democracy and "buying" legislators to topple state governments. Lalu was optimistic that a united opposition will defeat Modi in next year's elections. He said, after the opposition comes to power, they will take revenge for each and every 'zulm' (atrocity). BJP leader Sushil Modi reminded Lalu that his party RJD could not win a single Lok Sabha seat in 2019 elections. I am amazed over Lalu's fighting spirit. After a kidney transplant, he is mostly bed-ridden. He has spent several years in jail, and he is a convict in several cases. New cases are being filed against him and his family. Despite failing to win a single Lok Sabha seat in 2019, Lalu says, opposition must unite to topple Modi. Those who thought that Lalu's days are over, should watch Lalu speak. Lalu joined hands with his old rival Nitish Kumar to form government. He wants to see his son Tejashwi take over as Bihar chief minister soon. And nobody must undervalue Lalu's political ability and cleverness. Lalu Yadav can still perform a miracle.