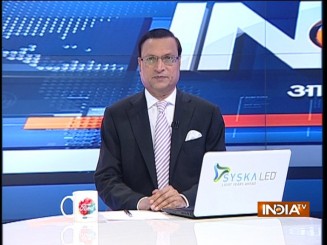 On Wednesday, as the nation was celebrating Eid Al Adha, a despicable act was being committed at the famous Hazratbal mosque in Kashmir valley.
The chief patron of National Conference Dr Farooq Abdullah was preventing from offering namaaz prayers by a bunch of hoodlums posing as separatists and followers of Zaaqir Musa, the self-styled Islamic State leader in the valley. Their objection: Dr Abdullah had chanted 'Bharat Mata Ki Jai' and 'Jai Hind' slogans at a condolence meeting in memory of Late Atal Bihari Vajpayee ln New Delhi. The hoodlums were shouting anti-Indian slogans, and they shoved and pushed the devouts in order to prevent Dr Abdullah from offering prayers.
The same day, terrorists went on a spree killing four persons, including a BJP worker. The BJP worker had come to his home in Pulwama to celebrate Eid.
Clearly, separatists and terrorists in the valley are acting out of frustration. They are doing un-Islamic acts. They do not have any regard for Insaaniyat (humanity), Kashmiriyat or Islam.
One should note that the number of hoodlums at Hazratbal was few, while most of the devouts wanted to offer namaz on Eid day. The people of the Valley wholly disapprove such un-Islamic acts, and this is a fact. These terrorists do not deserve to be called Islamic. They are inhuman and they have no sensitivity towards any religion.
Those who were killed in the Valley on Eid day were Kashmiris and Muslims. These terrorists only work on orders from their masters sitting across the border in Pakistan. They are shedding the blood of innocent Kashmiris. Time has come to liquidate these terrorists. We need to follow a 'bullet for bullet' policy, and the message should go to them that the only consequence of such acts is: death.
Click Here to Watch Full Video | Get connected on Twitter, Instagram & Facebook