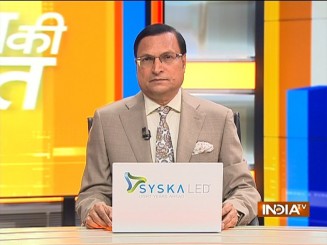 Super star Salman Khan is my guest this weekend in 'Aap Ki Adalat' show (to be telecast tonight on India TV). Nowadays, Salman moves around with heavy security because of serious threats to his life. Salman told me it has become difficult for him to work because of heavy security and he takes full precautions. We recorded this 'Aap Ki Adalat' show with Salman in Dubai. Normally, Salman frequently faces questions about his marriage (he is 57). I asked Salman why he is not following the advice that he gives to others to marry soon. His reply was: 'I am afraid of marriage, but I love kids very much. I want to have lots of kids, but the problem is our country's adoption laws do not allow this'. Salman spoke about his past affairs, his family's pressure for marriage. You will know his replies when you watch the show on Saturday night. Salman also told me, he's always ready to go to any extent to help his friends. When I pointed out that some people in film industry say that Shahrukh's film 'Pathan' became a superhit only because of his special appearance, Salman replied: 'Full credit for Pathan's success goes to Shahrukh Khan and producer Aditya Chopra'. This 'Aap Ki Adalat' show is somewhat different. For the first time, Salman revealed some interesting anecdotes about other actors. He revealed why he once fired a bullet at Shahrukh Khan, why he objected to wearing a 'langot' (an Indian wrestler's inner wear) in the movie 'Sultan', how at a show in South Africa, Aamir Khan suddenly announced from stage that Salman will sing, and how the latter managed to 'sing'. You can watch all these hitherto unknown anecdotes in 'Aap Ki Adalat' show on Saturday night.
A footnote: With the telecast of this show on Saturday night, India TV will be launched in UAE. Viewers in Dubai, Sharjah, Abu Dhabi can watch this show on India TV via Etisalat and du (UAE telecom operator). In that sense, Salman Khan's show will be historic. Do watch 'Aap Ki Adalat' with Salman Khan on Saturday night.
FIRs FILED AGAINST WRESTLING FEDERATION CHIEF
Delhi Police on Friday night filed two FIRs against Wrestling Federation of India chief Brij Bhushan Sharan Singh relating to sexual harassment complaints levelled by some top female wrestlers of India. The matter does not end with the filing of FIRs. The female wrestlers said, the dharna will continue so long as Singh is not arrested, removed from WFI chief post, and his Lok Sabha membership terminated. The matter is not only related to wrestlers. It is directly related to politics. Brij Bhushan Sharan Singh is a 'bahubali' BJP MP from UP, and it will not be easy for his party to take action against him. He has been elected MP six times. There are nearly 40 cases filed against him under goonda act, gangsters act, etc. He commands a sizeable influence in his region and is the owner of 54 schools and colleges. Elected as MP from Kaiserganj, his son is a BJP MLA from Gonda. He commands influence in Gonda, Shravasti and Shravasti LS constituencies. If BJP takes action against him, it can cause problems for the party in next year's LS elections. Moreover, local bodies polls in UP are going to be held on May 4 and 11. Any action against Singh can cause adverse repercussions. Opposition parties have realized BJP's compulsion, and are, therefore, piling upon pressure. BJP wants the matter to cool down for at least 15 days. Earlier, the dharna by wrestlers was non-political, but now politicians have jumped in. They are going to Jantar Mantar to express solidarity. On Saturday morning, Priyanka Gandhi went to Jantar Mantar and met the female wrestlers. Kapil Sibal, Congress leader, is the lawyer for the female wrestlers. The matter has already become serious. I feel, if the Sports Ministry had handled the issue properly, the crisis could not have become bigger.