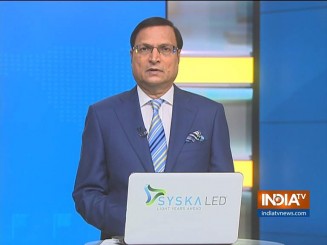 In fresh developments, UP police have arrested three persons in Banda district, who worked for a local news channel and gave crash course training in TV reporting to the three killers of mafia don Atiq Ahmed. The three killers Lovelesh Tiwari, Sunny Singh and Arun Maurya have made several disclosures to police about the sources of money and weapons used in the live TV killings. The three killers were produced before a Prayagraj court on Wednesday under heavy security using bulletproof shields. Police apprehend that the real conspirators may try to kill the assassins. This fear is justified, because Atiq Ahmed, despite being in Gujarat jail, planned and directed the daylight murder of key witness Umesh Pal. The roots of mafia gangs in UP are still deep despite arrests, encounters and razing of ill-gotten properties of criminals. UP police may now zero in on another mafia don Mukhtar Ansari. On Wednesday, UP police announced Rs 25,000 reward on the whereabouts of Mukhtar's wife Afshan Ansari, who is underground. Meanwhile, Atiq's widow Shaista Parveen and bomb expert Guddu Muslim are still underground. Police can find out details about the don's ill-gotten properties purchased through 'benami' channels, only after Shaista is arrested. Atiq had floated nearly 200 companies in UP, Haryana, Rajasthan, Delhi, Maharashtra and Bengal, in which extortion money was invested. Most of the properties grabbed by Atiq were registered in the name of his wife or other gang members. The properties include residences, shops and bungalows are located in Delhi, Bengaluru, Mumbai, Kolkata, Noida and Greater Noida and are registered in different names. With the death of the don, several gang members have now started posing themselves as victims. Some of them have started sharing recorded audio and WhatsApp conversations to show that they were facing extortions from the don. Among them is one Mohammed Muslim, a builder, who alleged that Atiq used to threaten him to pay extortion money. It was later revealed that Mohd Muslim was not a victim but was part of Atiq's gang. Atiq had got several properties registered in his name too. Normally, whenever a criminal don dies, his gang members try to grab his properties and extortion money, to protect themselves from police probe. CM Yogi Adityanath has clearly instructed officials that innocents must not be harassed, but the guilty must not be spared. The aim is to uproot mafia gangs. Already, some people have started giving communal colour to UP police operations. In Majalgaon of Beed district in Maharashtra, large hoarding have appeared describing Atiq and his brother Ashraf as martyrs. The aim is to target a particularl community and spread religious fanaticism. Police promptly removed these hoardings and arrested two persons. In Prayagraj, Raj Kumar, a Congress candidate in municipal elections, laid tricolour flag on Atiq's grave and demanded that Bharat Ratna be given to the mafia don. He was promptly expelled by Congress party for six years. Police immediately removed the tricolour from Atiq's grave and a case has been filed against Raj Kumar. In Bareilly, Ittehad-e-Millat Council chief Maualana Tauqeer Raza gave a call to his supporters to come out on sgtreets against what he called 'atrocities against Muslims'. Prohibitory orders under Section 144 have been clamped in Bareilly. I congratulate Congress party for taking swift action against the man who wanted Bharat Ratna for Atiq Ahmed, but there is nobody to question Maulana Tauqeer Raza. Even Samajwadi Party MP Shafiqur Rahman Burq has also supported Atiq. The fact is UP police has provided protection to both the children of Atiq Ahmed and has kept them in a children's home. To say that the lives of Atiq's children are under threat is unjustified. As far as Atiq's widow is concerned, she has full knowledge about the crimes committed by the don and his associates. Those who are trying to give a communal colour to Atiq's case, must remember, how the don used to terrorize people. In 2016, Atiq, along with a mob carrying weapons, marched into the agricultural university in Naini, and slapped the PRO of the university Ramakant Dubey. The provocation: a close relative of his associate was caught copying during exam. The video of Atiq slapping the PRO was shown on India TV on Wednesday night. This video is proof of how mafia dons like Atiq Ahmed and Mukhtar Ansari used to strike terror in UP. I spoke to a senior police officer of that era, who revealed, nobody had the courage to take action against mafia dons during SP and BSP rule. The Rs 15,000 crore worth properties of criminals attached by the government, have not been acquired overnight. This was the result of three decades of mafia rule. The roots of mafia gangs had really gone deep, and it will take time to destroy those roots. During last six years, Yogi Adityanath brought fear of law in the minds of these criminals, he cut off their supply lines (of extortions and land grabbing), seized their properties and got many criminals killed in encounters. Political parties must lend support to Yogi in his drive against criminal mafia gangs. This is essential for peace and prosperity of UP.
WHY MAMATA OFFERED TO RESIGN?
On Wednesday, West Bengal chief minister Mamata Banerjee described BJP leader Suvendu Adhikari's allegation as baseless and offered to resign if the charge was proved correct. Adhikari had alleged that Mamata spoke to Home Minister Amit Shah four times over telephone to protect national party status of Trinamool Congress, that was recently withdrawn by the Election Commission. Mamata said, this was a lie, and if BJP can prove that she spoke to Amit Shah, she would resign as CM. Suvendu Adhikari stuck to his allegation and revealed that Mamata spoke to Amit Shah over landline. He promised to reveal the full secret "at the right time". Trinamool Congress threatened to take legal action against Adhikari. In another interesting development, former Union Minister Mukul Roy, who had been missing three days ago, surfaced on Wednesday and claimed that he never left BJP. Mukul Roy said he had come to Delhi to meet BJP leaders to seek work in view of next year's Lok Sabha polls. Suvendu Adhikari said, leaders like Mukul Roy, who crossed fences, have no place in BJP now. Mamata Banerjee said, Mukul Roy is still a BJP MLA, he had come to meet her but he never rejoined Trinamool Congress. 'Our party has nothing to do with him, his health is not good', she said. Mukul Roy has been a founding member of Trinamool Congress. He was a close associate of Mamata Banerjee, but joined BJP in 2017. At present, he is a BJP MLA, and it is also a fact that a few months after Mamata won assembly polls, he called on her, but never resigned from assembly. The position now is: neither BJP nor Mamata want Mukul Roy.