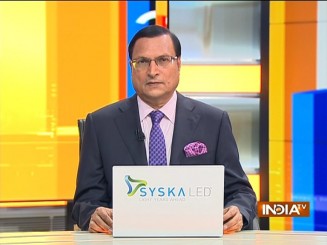 On the occasion of birth anniversary of Netaji Subhas Chandra Bose, observed as 'Parakram Diwas' on Monday, Prime Minister Narendra Modi named 21 largest unnamed islands of Andaman & Nicobar after the 21 recipients of Param Vir Chakra, the nation's highest military honour.
Through video conferencing, the Prime Minister unveiled a model of the national memorial dedicated to Netaji on Ross island, named Netaji Subhas Chandra Bose Dweep during Modi's visit in 2018. On Ross Island, during the Second World War, Netaji, leading the Azad Hind Fouj, had unfurled the national tricolour in 1943. Havelock island and Neil Island were renamed Swaraj Dweep and Shaheed Dweep in 2018.
Neil Island was named by British rulers in memory of Brigadier General James Neil, who had played a big role in crushing the 1957 First Indian War of Independence. Havelock Island was named after British General Sir Henry Havelock. It was on December 30, 1943 that Netaji wrested both these islands from the British, and proudly hoisted Indian tricolour flag.
On Monday, the largest unnamed island was named after the first Param Vir Chakra awardee, the second largest unnamed island was named after the second Param Vir Chakra awardee, and so on. This was an everlasting tribute to our national heores, several of whom gave the supreme sacrifice to protect India's borders.
The 21 Param Vir Chakra awardees, in whose name the islands were renamed are: Major Somnath Sharma, Subedar and Hon. Captain (then Lance Naik) Karam Singh, 2nd Lt. Rama Raghoba Rane, Nayak Jadunath Singh, Company Havildar Major Piru Singh, Capt G S Salaria, Lt Col (then Major) Dhan Singh Thapa, Subedar Joginder Singh, Major Shaitan Singh, Company Quarter Master Havildar Abdul Hamid, Lt Col Ardeshir Tarapore, Lance Naik Albert Ekka, Major Hoshiar Singh, 2nd Lt Arun Khetrapal, Flying Officer Nirmaljit Singh Sekhon, Major Ramaswamy Parameswaran, Naib Subedar Bana Singh, Captain Vikram Batra, Lt Manoj Kumar Pandey, Subedar Major (then Rifleman) Sanjay Kumar and Subedar Major Retd (Hon. Captain) Grenadier Yogendra Singh Yadav.
In his address, Modi said, "this day will be remembered by future generations as a significant chapter in the 'Azadi Ka Amrit Kaal'…From Bengal to Delhi to Andaman, every party of India salutes and cherishes the legacy of Netaji….When history is being made, future generations not just remember, assess and evaluate it, but they also find constant inspiration from it"
The Prime Minister reminded that the national tricolour was hoisted for the first time in Andaman and Nicobar islands and the first independent government of India was formed by Netaji. He said, 'Veer Savarkar and many other heroes like him had touched the pinnacle of penance and sacrifice for the nation on this very island. The voices of that unprecedented passion along with immense pain are still heard from the cells of Cellular Jail today….The identity of Andaman was associated with the symbols of slavery instead of the memories of freedom struggle. Even the names of our islands had the imprint of slavery."
Mentioning the Param Vir Chakra heroes, Modi said, "They sacrificed everything to protect Mother India. These brave jawans and officers of the Indian Army were from different states, spoke different languages and dialects, and lived different lifestyles, but it was the service of Maa Bharati and their unwavering devotion for the motherland, that united them. Like the sea that connects different islands, the feeling of 'Ek Bharat Shreshta Bharat' united every child of Mother India. ..All these Paramveers had only one resolve – Nation First! India First! This resolution has now become immortal forever in the renaming of these islands. A hill in Andaman is also being named after Captain Vikram Batra, the hero of Kargil war."
Modi said, the renaming of these islands is not only dedicated to the Paramveer Chakra awardees, but also the Indian armed forces. "Our army had to face wars right from the time of independence. They have proved their bravery on all fronts. It is the duty of the country to ensure that the soldiers who dedicated themselves to national defence, should be widely recognized along with the contributions of the army."
It goes to the credit of Prime Minister Narendra Modi that he never takes decisions out of impulse or without proper planning. The islands that were renamed on Monday, were a legacy of slavery, and is part of his major plan to remove all vestiges of foreign rule. Last year, Modi had announced five 'sankalps' (vows) from the ramparts of Red Fort on Independence Day. One of the vows was to remove all symbols and vestiges of slavery and putting an end to the slavery mindset. As part of this plan, King George V's statue was replaced with that of Netaji at India Gate. Modi then changed the flag of Indian Navy with a new ensign. The renaming of Andaman islands on Monday is a fitting tribute to the historic legacy of Netaji.