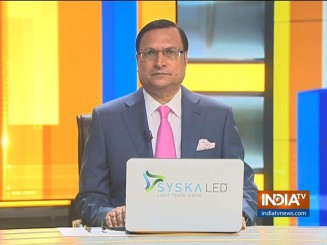 On the first day of Navratri, Durga Saptashati recitation was held in temples of all districts of UP. The state government donated Rs one lakh to each temple in every district for the purpose. Vishwa Hindu Parishad announced it will conduct 100 crore Hanuman Chalisa recitations for the next 300 days across India. The Ram Temple in Ayodhya will be opened 300 days from now. This is not the first time Hanuman Chalisa recitals are taking place. Political parties and religious outfits frequently organize such recitals. In Madhya Pradesh, Congress leader Kamal Nath organizes such recitals frequently. Similarly, on Gudi Padwa festival, leaders of Shiv Sena (Uddhav), Shiv Sena (Shinde), BJP and Raj Thackeray's Maharashtra Nav Nirman Sena organized large gatherings. Uddhav Thackeray's son Aditya Thackeray said, festivals must not be used for political advantage. He may be correct, but in today's politics, such a remark is only cosmetic. Almost all political parties use religious gatherings to further their own ends. Balasaheb Thackeray's Shiv Sena was founded on Hindutva ideology. Till the time he was with BJP, Uddhav Thackeray's language, too, was the same. When Uddhav joined hands with NCP and Congress, he refrained speaking much about Hindutva. Eknath Shinde is trying to take full advantage of this.
SHARDA PEETH TEMPLE REOPENS IN KASHMIR
On the first day of Hindu New Year, Home Minister Amit Shah opened the Sharda Peeth temple to the public in Kupwara district. This renovated temple is located 700 metres away from Line of Control in Kashmir through video conferencing. In 1947, Pakistani raiders attacked the Valley, and burnt the temple. The main Sharda Peeth, built by Adi Guru Shankaracharya, is located 30 km away in Pak Occupied Kashmir. All political parties, including Mehbooba Mufti, have welcomed this. Major shrines across India have got new looks since the time Narendra Modi became the Prime Minister in 2014. Whether it is Kashi Vishwanath, or Mahakaleshwar temple of Ujjain or Somnath temple, they have become attractions for religious tourists from across the world. This has given a fillip to employment for people living near these temples. It is a welcome step.
POLITICS OVER HOLIDAYS
Two Samajwadi Party MPs, S T Hassan and Shafiqur Rahman Barq, have questioned why Wednesday was declared a holiday in Parliament for Navratri. The two SP MPs said, there was no mention of this holiday in the Parliament calendar. They said, if holiday is given for Hindu New Year, then there should be a holiday for Ramzan too, which comes two days later. I think, there was no need for SP leaders to make an issue out of it. Already Parliament is facing a logjam and no work is being done. The issue is not Hindu New Year or Navratra. Several festivals like Ugadi, Cheti Chand, Gudi Padwa also fell on the same day, and MPs wanted to visit their constituencies. Ramzan will be observed from Friday. People of all religions should allow others to celebrate.
ANTI-MODI POSTERS IN DELHI
On Tuesday night, Delhi Police seized thousands of Aam Aadmi posters and arrested six persons including three printing press owners. AAP leaders alleged that the posters 'Modi Hatao, Desh Bachao' were seized because Modi government is afraid of AAP. Delhi Police clarified that the action was part of a campaign to keep Delhi walls clean in preparation for G20 meetings. On Thursday, BJP put up 'Kejriwal Hatao, Delhi Bachao' posters in some parts of the capital. I think, putting up posters and hoardings, distributing leaflets are part of politics, and these should not be banned. Such activities are required to boost the morale of supporters. However, AAP's claim that Modi government is afraid because of these posters is baseless. For AAP, this has become an endless litany. Earlier, their leaders used to say Modi government fears our education policy, later they said, it fears our Mohalla Clinics, and then they also said, Modi government fears because we are contesting Gujarat polls. If AAP leaders cry wolf too often, it becomes redundant.