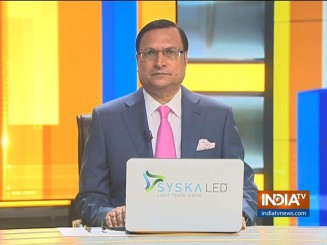 Parliament continued to remain paralyzed with both Houses adjourned till Monday due to slogan shouting by members from both sides. Both the Houses have not transacted any business since the second phase of budget session began on Monday. Congress leader Rahul Gandhi had promised to clarify about his remarks on democracy that he made in Britain. BJP president J. P. Nadda on Friday demanded that Rahul must apologize for insulting India on foreign soil. The opposition is demanding a joint parliamentary probe into Adani controversy. Rahul Gandhi said on Thursday that "it will be a test of democracy whether I am allowed to respond to allegations made by four ministers, or whether I am told to shut up. ..The tamasha (spectacle) around me is a diversionary tactic and the government does not want to answer questions about the nature of relationship between PM Modi and industrialist Gautam Adani". For the last nine years, Rahul had been alleging how Ambani and Adani are getting special favours. He is only repeating his allegations. It will be futile to expect an apology from him for his remarks about Indian democracy in Britain. When media personnel asked him about his "democracy" remarks, Rahul said, he would like to speak inside Parliament first. But he probably forgot that BJP has raised and will continue to raise this issue outside Parliament too. It is, therefore, a foregone conclusion that Rahul is not going to apologize for his remarks.
SISODIA IN JAIL
Former Delhi deputy CM Manish Sisodia's judicial custody was extended for five days by a Delhi court after Enforcement Directorate sought extension alleging he had destroyed his cell phones and needs to be confronted before other accused. Meanwhile, on Thursday, CBI registered an FIR against Sisodia for alleged irregularities in Delhi government's Feedback Unit set up in 2015. In its FIR, CBI alleged that the Feedback Unit was created to collect sensitive intelligence about politicians, and the Home Ministry had given approval to prosecute Sisodia for 'political snooping'. Delhi CM Arvind Kejriwal promptly tweeted: "PM's plan is to slap several false cases against Manish and keep him in custody for a long period. Sad for the country!". It is true the amount of corruption in this case is small. Seventeen posts in FBU were filled, and only Rs 2.5 lakh each was paid to two private companies out of a total budget of Rs 1 crore. The amount may be small, but the allegation of 'political snooping' is serious. If CBI comes forth with concrete evidence and proves its charges in court, Kejriwal could face legal and political difficulties. Leaders against whom snooping was ordered were not from BJP or Congress, but from Aam Aadmi Party. If the charges are proved, the message will go out that Kejriwal does not trust his own people and he snoops on them.
TEJASHWI YADAV AND CBI
CBI had summoned Bihar Deputy CM Tejashwi Yadav for questioning on Thursday, but instead of appearing, his lawyer went to Delhi High Court and promised that he would appear before CBI on March 25. RJD leaders said Tejashwi is not afraid of being arrested, while CBI advocate said he is needed for questioning because the agency wants to show him some documents. BJP leader Sushil Modi said, Tejashwi will not be spared, no matter what excuse he gives. "He must tell CBI how he amassed crores worth properties at the age of 23", Sushil Modi said. While BJP claims the probe against Lalu's family as a watertight case of corruption, RJD is portraying this as an emotional issue about a sick and old politician like Lalu Prasad being harassed by the agency. Tejashwi, in his defence says, his father Lalu was Railway Minister till 2009, and at that time, he did not even grow moustache and beard. "How can I indulge in corruption at that age?", he says. It is now up to the CBI to prove in court whether a scam did take place or not. But at this moment, visuals of Lalu sitting in a wheelchair and appearing in court, may hurt the feelings of people in Bihar, and Tejashwi may reap some advantage.
MEHBOOBA OFFERS WATER TO SHIVLING
Former Jammu & Kashmir CM Mehbooba Mufti is drawing flak from Muslim clerics for offering water to Shivling at the Navagraha temple in Poonch district. While BJP leader Ravinder Raina praised her, several Muslim clerics said, what she has done is not permitted in Islam. Mehbooba said, "I visited the temple because it was built by our PDP party leader Yashpal Sharma…I know what is Islam, and I don't need any Maulana to teach me. It is my personal choice and there is no need to debate." I do not understand why so much hullabaloo is being created over this. I have seen former CM Dr Farooq Abdullah praying several times at the Shankaracharya temple in Srinagar. I was present and I offered prayer with him at the temple. I have heard Farooq Abdullah singing bhajans for Lord Ram. During those days, nobody made it an issue, but times have changed. A small matter is being blown out of proportion.