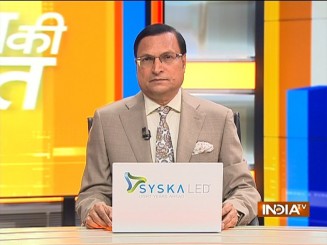 Congress leader Rahul Gandhi has waded into a fresh controversy by alleging on foreign soil that 'Indian democracy is under threat' and several leaders, including himself are under surveillance. He was delivering a lecture at Cambridge University, UK, as a visiting fellow of Cambridge Judge Business School, and the topic of the lecture was 'Learning to Listen in the 21st Century'.
Rahul Gandhi said: "In my view, Narendra Modi is destroying the architecture of India. So, I am not bothered about two or three good policies…if heis blowing our country to smithereens, I think that is what he is doing. He is imposing an idea on India that India cannot absorb. India, as I said, is a Union of States. It is a negotiation and if you try to force one idea on a Union, it will react."
Rahul Gandhi alleged that Israeli Pegasus spyware was installed on the phones of a large number of politicians, including himself. He said, "I myself, had Pegasus on my phone. A large number of politicians have Pegasus on their phones…So this is a constant pressure that we feel."
BJP immediately reacted and said it was "a brazen attempt" to denigrate India on foreign soil, in the name of targeting Narendra Modi. Information & Broadcasting Minister Anurag Thakur said, "What was his compulsion in not submitting his cellphone to check whether there was Pegasus spyware or not? He is already on bail in a corruption case (National Herald). What was there in his phone that he needed to hide? Why didn't he and other leaders submit their phones?"
Assam chief minister Himanta Biswa Sarma gave a point-by-point rebuttal to the issues raised by Rahul Gandhi in Cambridge.
In a long Twitter thread, Sarma wrote: "First foreign agents target us! Then our own targets us on a foreign land! Rahul Gandhi's speech at Cambridge was nothing but a brazen attempt to denigrate our country on foreign soil in the guise of targeting Adarniya PM Shri Narendra Modi ji.
"Rahul says, Indian democracy is under threat because he can't freely express himself. FACT: He travelled 4,000 km in his yatra incident-free under the protection provided by Modi Govt. Do we need to remind him how yatras led by BJP leaders were sabotaged when Cong was in power?
"Rahul says Pegasus was found on his phone and an "officer" warned him regarding it. FACT: He refused to submit his phone for investigation when Supreme Court asked for it. Following extensive investigation, SC concluded that there was no evidence of Pegasus.
"Rahul says, India's minorities are unsafe and treated like second class citizens. FACT: Since May, 2014, communal violence in India has been the lowest ever and prosperity of minority families the highest ever. Many minority leaders have reposed their faith in Modi govt.
"Rahul says, India is a Union of States modelled after Europe. FACT: Bharat & her Mahajanapadas as a civilisation entity has been in existence thousands of years before even Europe became a political entity, yet we are modelled after them?
"Rahul praises China as an aspiring superpower, cites Belt and Road Initiative (BRI) as an example. FACT: BRI is solely responsible for the debt crisis facing several countries today. Uncle Pitroda should have told him this.
"Rahul says manufacturing isn't conducive in democracy. FACT: When Indira Gandhi suspended democracy, manufacturing didn't increase. But when Modi Govt introduced PLI scheme, it did. Is Cong agenda for 2024 is to take India back to Communist dictatorial era?
"Rahul goes on to say, China not believing in Intellectual Property Rights is a profound and powerful concept. Want to ask if P. Chidambaram also thinks that discarding copyright laws and encouraging piracy will boost manufacturing?
"Rahul even admits he is fascinated by China and Communist Party members have shaped his thoughts. Such rich praise for the Chinese is understandable. Gandhi family is trying to pay off its debts for the donations they took from them!
"Rahul says, in Kashmir militants saw him, but he knew they wouldn't target him. Why was this not reported to security agencies? Was there some understanding Cong had with these militants to protect Rahul?
"Rahul described the Pulwama attack as "a car bomb that killed 40 soldiers". How dare he insult our jawans? It wasn't a bomb sir, but a terror attack. No surprises that he refused to name Pakistan behind Pulwama attack. Is this part of the understanding Cong had with militants?"
Information & Technology Minister Ashwini Vaishnaw said, "There is no need to reply to Rahul, because his needle is stuck at only one point."
As opposition leader, Rahul Gandhi has the democratic right to question Pegasus spyware. But when he made this allegation on foreign soil, he should have also mentioned that the Supreme Court went into the Pegasus issue and did not find any evidence.
BJP leaders said, at a time when Indian armed forces are guarding the Line of Actual Control in an eyeball-to-eyeball confrontation, Rahul is praising China. One BJP leader said, China has only three friends left in the world: Pakistan, North Korea and Rahul Gandhi. It may have been said in jest, but the message is clear: Rahul should have chosen his words carefully while speaking in Cambridge.