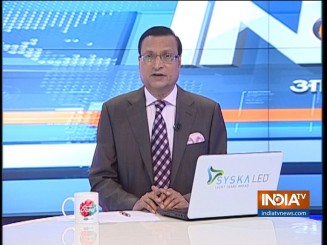 Congress President Rahul Gandhi on Monday referred to Jaish-e-Mohammed chief as 'Masood Azhar Ji' while addressing his party booth workers in Delhi. He was referring to the Kandahar hijack incident in 1999, when Masood Azhar and two other terrorists were handed over to hijackers in exchange for release of hostages.
BJP leaders criticized Rahul for showing respect to the terror mastermind by using the word 'Ji'. Law Minister Ravi Shankar Prasad reminded that it was senior Congress leader Digvijaya Singh who had once said "Masood Azhar Ji" and "Hafiz Saeed Sahib". This month, Digvijaya Singh had referred to the Pulwama terror attack in which 40 CRPF jawans were killed by a Jaish suicide bomber as "durghatana" (accident).
As an opposition leader, Rahul Gandhi is well within his rights to criticize Modi government's policies and actions. Being the head of the opposition party, he should be doing so, but making a respectful mention of a terror mastermind whose men killed 40 of our jawans, is one such remark which the people of India may not accept. It may hamper the electoral prospects of the Congress party.
Former Jammu & Kashmir chief minister Dr Farooq Abdullah has also made a more objectionable remark. On Monday, he said that the "surgical strike"(air strike) on Balakot inside Pakistan was done "only for the purpose of elections. We lost an aircraft worth crores of rupees. Be thankful that the IAF pilot survived and returned from Pakistan with respect".
Farooq Abdullah is an experienced politician, and I have seen him working for a long time. When he was in the NDA during Vajpayee's rule, he used to condemn Pakistan almost daily. He also used to praise Narendra Modi. But when the BJP joined hands with PDP leader Mehbooba Mufti to form a government in J&K, he changed his tune.
Since Farooq Abdullah is now an opposition leader, he has the right to criticize the government, but it does not behove of him to blindly accept the claims of Pakistan army, and reject the claims of our army. This amounts to lowering the morale of our brave jawans and pilots. He refuses to believe that our Mig-23 Bison pilot shot down an F-16 aircraft of the Pakistan army.
Finance Minister Arun Jaitley, has therefore, rightly said in 'Aap Ki Adalat' show on India TV that such leaders may garner TRPs for Pakistani news channels, but they will have to face the wrath of the people in India.
Click Here to  Watch Full Video | Get connected on Twitter, Instagram & Facebook