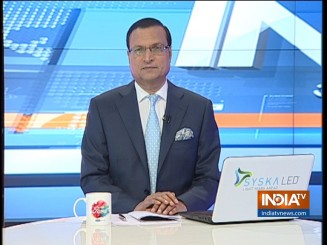 Electioneering for the Lok Sabha elections ended on Friday evening, and the two stalwarts of the Indian political spectrum – Prime Minister Narendra Modi and Congress President Rahul Gandhi – addressed press conference almost simultaneously in Delhi.
There is no doubt that Prime Minister Modi exerted his utmost by traversing the length and breadth of India addressing election rallies. BJP, which has been in power at the Centre for the last five years, had been initially on the defensive when the election campaign began, but it goes to the credit of Modi that he single handedly took the fight into the opposition camp and converted this critical challenge into an opportunity.
Modi was at his aggressive best in states like West Bengal, UP, Bihar and Kerala. The entire burden of BJP's campaign was on Modi's shoulders, and he made a direct appeal to the voters saying that each vote for BJP would go personally to his account.
On May 19, after the final phase of polling is over, the exit poll results will be out on electronic media. I have the exit poll figures for the first six phases of polling, but Election Commission's order prohibits telecast of exit poll results before 6.30 pm on May 19.
Both Modi and BJP President Amit Shah have claimed that the party would get a comfortable majority. How far this claim is true, I shall reveal on Sunday evening when the exit poll results will be telecast on India TV.
Congress President Rahul Gandhi on Friday did not say how many seats his party will win, but he took potshots at Modi. Rahul said that Modi avoided speaking on issues like Rafale, unemployment and farm distress, but spoke about how to eat mangoes in his interviews. Rahul also blamed the media for not questioning the PM seriously on these issues.
I have a small correction here to make. The interviewer, Akshay Kumar, who asked Modi how he ate mangoes, was not a journalist. He is a Bollywood actor not connected with media. And Media can't be held responsible for what he asked.
Earlier this month, I had interviewed Prime Minister Modi in front of several thousand viewers in a packed stadium, and asked him questions on all important issues – his foreign policy, on relations with China, on his sudden visit to Lahore, on Balakot air strike, on Rahul's allegation that he gave away Rs 30,000 crore to Anil Ambani, on Nirav Modi and Vijay Mallya.
I also allowed viewers to put questions to the PM. The people of India have a clear understanding about issues and personalities. That is why this mega interview with the PM got historic viewership. Crores of Indians watched this interview on India TV. Hence it was improper on part of Rahul Gandhi to say that the media is not impartial.
Many people who watched the interview with Modi asked me why I did not invite Rahul Gandhi for a similar interview.
Today I want to reveal that for the last five years, I have been sending letters and messages to Rahul Gandhi and his advisers, but he was not ready to face my questions. Neither did he refuse, nor did he give consent to attend my show Aap Ki Adalat.
I have no grievance against Rahul. It is his right to decide whose questions he wants to answer, and whom he wants to avoid. But I am revealing this to all my viewers and fans so that Rahul cannot blame the media for giving more space to Modi. What I personally feel is: Rahul seeks his own comfort zone, and then blames the media for being partial.
Had Rahul accepted my invitation and come to my show and summoned the courage to answer questions, the people of India would have listened to him, he would have got a wider platform and his interview too would have been watched by crores of Indians.
Click Here to Watch Full Video| Get connected on Twitter, Instagram & Facebook