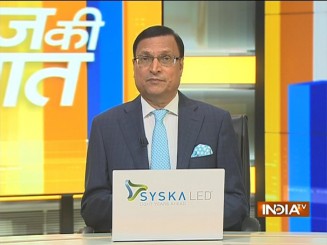 Congress leader Rahul Gandhi has raised a fresh controversy by equating the RSS with Muslim Brotherhood, and describing the saffron outfit as a "fundamentalist, fascist organization, which has basically captured pretty much all of India's institutions. You can call it a secret society built along the lines of Muslim Brotherhood". It is not the first time that Rahul Gandhi has said such things about RSS, Narendra Modi, Parliament and judiciary. Had he not spoken about these issues in London, nobody here would have bothered to go through his speech. As people in India know pretty much well about the activities of RSS and its capability. The people of India are aware that the judiciary is not under government's control and that, Rahul Gandhi is never prevented from speaking in Parliament. People remember the umpteen number of times Rahul spoke inside and outside Parliament. Nobody switched off his mike. I remember, he once said, let me speak for 10 minutes in Parliament and there will be an earthquake. He spoke for nearly half an hour but no such tremors were felt. We have heard Rahul speak on Rafael deal, on GST, on the farmers' bills. A few weeks ago, he spoke for more than half an hour on industrialist Gautam Adani, and showed a photograph of Modi with Adani inside the House. Nobody stopped him. The Speaker allowed him full time to speak. It is therefore difficult to understand why Rahul alleged in London that opposition is not allowed to debate in Parliament and why its voice is being stifled. Did he presume that his audience there were not aware about the ground realities in India? It is strange how anybody can think on those lines in this Digital India age. The most worrying part was when Rahul, at a London programme, pointed towards a Sikh sitting in the audience and alleged that Mr Narendra Modi considers Sikhs as second class citizens. In his blind opposition to Modi, Rahul should not forget that anti-Indian forces can take advantage of such loose remarks. Such statements can be used to foment tension in India. Rahul Gandhi should avoid making such remarks.
CBI AND LALU PRASAD
On Tuesday, CBI officials questioned former Bihar chief minister and RJD supremo Lalu Prasad Yadav in Delhi for nearly five hours in the 'land for jobs' scam. Lalu Yadav is unwell. He underwent kidney transplant in Singapore and doctors have put restrictions on meeting outside visitors. It would have been better if the questioning could have been postponed, but it would be incorrect to say that Modi government is trying to target Lalu Yadav because his party has entered into an alliance with Nitish Kumar's JD(U). The 'land for jobs' scam surfaced when JD(U) leader Lallan Singh complained to CBI when Dr Manmohan Singh was prime minister. Now, neither Tejashwi Yadav will ask Lallan Singh why he complained against Lalu Yadav, nor Lallan Singh will now level corruption charges against the RJD supremo, since both the parties have now joined hands. On the contrary, Lallan Singh will now say that CBI is committing excess against Lalu Yadav and investigation agencies are being misused.
ASHOK GEHLOT AND MARTYRS' WIDOWS
Rajasthan chief minister Ashok Gehlot is facing flak after some police personnel misbehaved with the widows of Pulwama terror attack martyrs recently. Defence Minister Rajnath Singh has asked Gehlot to probe the incident and ensure that the promises made to the widows are fulfilled. Congress leader Sachin Pilot also wrote a letter to his CM making the same request. The misbehaviour with the widows of martyrs is really shameful. Action must be taken against the police personnel responsible. The martyrs' families have not put any fresh demand. They are only demanding that the promises that were made by the government after Pulwama attack be fulfilled. There is nothing wrong in this. The promises were made four years ago. Our CRPF jawans had given their supreme sacrifice. Is it not the responsibility of the government to take care of the martyrs' families? They are demanding jobs for their family members. These widows were demanding that statues of the martyrs be erected, but police personnel, with lathis, started beating them up. It brings nothing but shame to our society.