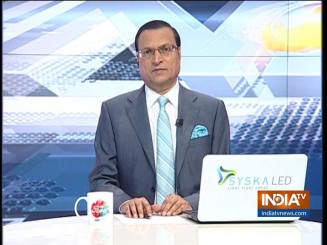 Soon after the exit poll projections hinting at a comfortable victory for Prime Minister Narendra Modi-led National Democratic Alliance were out on news channels on Sunday evening, the social media went on overdrive and several videos were posted on Monday to allege that electronic voting machines were being replaced or manipulated at some counting centres.
Nearly 22 opposition parties held an urgent meeting on Tuesday, and marched to Election Commission demanding that if any discrepancy in matching of VVPAT slips with EVM results was found, then 100 per cent matching of VVPAT slips with EVM results must be made. Similarly, a petition was taken up in Supreme Court, filed by a Chennai NGO, demanding 100 per cent counting of VVPAT slips, but the vacation bench of the apex court threw out the request citing an earlier order of the Chief Justice of India.
Coming to the video clips that were in circulation, the Election Commission checked all of them, and came out with a detailed statement saying that almost all of them were old ones, and all those issues have already been dealt with, to the satisfaction of candidates.
Questioning the integrity and impartiality of the Election Commission, without even a shred of solid evidence, and that too, even before the votes are counted, amounts to insulting democracy.
If the 22 opposition parties had solid proof, they should have come forward with details. But levelling allegations of EVM manipulation on the basis of video clips of questionable antecedents, circulated on social media, and that too, unverified ones, is unacceptable. Nobody is going to support such a step which amounts to creating mistrust in the minds of people over the electoral process.
One can understand common people being swayed by such video clips circulating on social media, but it becomes a matter of concern when senior political leaders accept these video clips as true, and that too, without verifying them.
On Monday, four such video clips, all from UP, surfaced which showed verbal exchanges between political party agents and polling officials, and transport of EVMs on trucks. One of these videos was posted by supporters of Samajwadi Party chief Akhilesh Yadav, while in Bihar, videos from Patliputra and Chhapra, were retweeted by RJD leader Tejashwi Yadav, and these were immediately circulated on social media by his sympathizers.
All these video clips were found to be two or three weeks old, and in all cases, according to the EC, the matters were immediately resolved. I would therefore appeal to all right thinking people not to forward such questionable video clips being circulated on social media, without verifying them from credible sources.
As regards tampering of EVMs, one should note that Lok Sabha elections were conducted in 2004 and 2009 through EVMs and the Congress and its allies formed governments at the Centre. Similarly last year, assembly elections were conducted through EVMs in Chhattisgarh, MP and Rajasthan, and the Congress formed state governments. It is clear that those who fear impending electoral defeats start questioning EVMs.
Opposition parties had approached the Supreme Court, and the apex court had directed that VVPAT slips from five EVMs in each assembly segment be matched with the results. Questioning the EVMs despite the Supreme Court ruling and the assurances given by Election Commission, will mean that those why are crying foul have doubts in their minds over their victories, and not over the EVMs.
Click Here to Watch Full Video| Get connected on Twitter, Instagram & Facebook