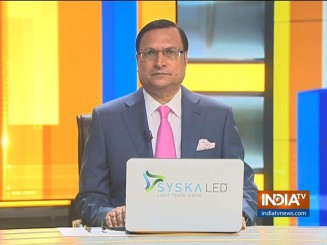 A violent mob, chanting pro-Khalistan slogans and brandishing swords and guns, was led by a radical preacher Amritpal Singh, who laid siege to Ajnala police station of Amritsar on Thursday demanding release of his close aide Lovepreet Singh Toofan. The siege was lifted after the local SSP promised release of Toofan within 24 hours. Toofan was released by a court in Ajnala on Friday.
The radicals belonged to the outfit 'Waaris Punjab De' set up by late Punjabi actor Deep Singh Sidhu, a pro-Khalistani, who owed allegiance to Canada-based separatist Gurpatwant Singh Pannu's 'Sikhs For Justice' outfit.
Lovepreet Singh alias Toofan is an accused in a kidnapping case, but on Thursday, SSP Satinder Singh, after succumbing to pressure from the radicals announced that "on the basis of evidence furnished by Amritpal Singh and his supporters, we will release Lovepreet, while an SIT led by SP Tejbir Singh will probe the kidnapping and assault case filed against Amritpal Singh."
In my 'Aaj Ki Baat' show on Thursday night, we showed videos of several hundred armed pro-Khalistani supporters, wielding guns and swords, storming the Ajnala police station, by breaking barricades. Hours earlier, the mob blocked traffic on Delhi-Amritsar highway near Dhilwan toll plaza in Kapurthala district. Amritpal Singh has been openly demanding Khalistan, and on Thursday, while leading the violent mob, he told his supporters that he would move to Darbar Sahib (Golden Temple) after securing release of Toofan, to thank the Guru.
Visuals of the mob shouting pro-Khalistan slogans in Amritsar are really disturbing. More than a dozen policemen were injured in the clash between the radicals and police. The most surprising part is that senior Punjab Police officials succumbed to the threat from Amritpal Singh of continuing with the siege if his aide Toofan was not released. Scores of policemen had to run to save themselves in the face of the marauding violent mob.
Amritpal Singh claims to be a staunch follower of Jarnail Singh Bhindranwale, the terror mastermind who was killed during Indian Army's Operation Bluestar in June, 1984. Thursday's siege took place after video appeared of a man Varinder Singh being thrashed by Amritpal Singh and his supporters on February 15. Amritpal's supporters had kidnapped him, and police had filed an FIR on the basis of Varinder Singh's complaint.
The question that arises is, when police decided to withdraw the FIR, why was an SIT set up to investigate the incident? Harpal Singh Baler, a leader of Shiromani Akali Dal (Simranjit Singh Mann) spoke to senior police officials on behalf of Amritpal Singh to sort out the matter.
Amritpal Singh, born in Amritsar, left for Dubai in 2012, where he stayed for nearly ten years. He was involved in transport business. He then came in contact with pro-Khalistan supporters in Dubai, returned to India last year, and took over as the chief of 'Waaris Punjab De' outfit. He claims this outfit is a social organization, but, in reality, it is trying to spread radicalism and helping separatist forces.
Deep Singh Sidhu is the man, who led a violent mob to Red Fort in Delhi on January 26, 2021 during farmers' agitation, where a pro-Khalistan flag was hoisted. Deep Sidhu died in a road accident on February 15 last year. Amritpal Singh was anointed the head of 'Waaris Punjab De' at Jarnail Singh Bhindranwale's ancestral village Rode in Moga district. Since then, Amritpal Singh has become very much active, and he is moving around villages with his supporters to induct radicals.
In one of his speeches, Amritpal Singh is shown saying, "Home Minister Amit Shah, who is saying pro-Khalistani forces will be crushed, must remember what happened to Indira Gandhi". On Thursday, Amritpal Singh said, he did not give any threat to Amit Shah. He says, his comment was torn out of context by media.
The moot point is: a violent mob carrying guns, swords and lathis attacking a police station cannot be taken lightly. Moreover, the mob was shouting separatist slogans. The most worrying part was, the local police, instead of facing the mob, meekly surrendered to the radical preacher, by agreeing to release his close aide. It is surprising to find Chief Minister Bhagwant Mann's government meekly surrendering to the radicals and releasing separatists from jail.
Amritpal Singh is not alone. He is getting support from rabid anti-India separatist Gurpatwant Singh Pannu, sitting in Canada. Pannu regularly posts video insulting the Indian tricolour and his supporters have been staging protests in Canada and Britain.
Amritpal Singh considers Pannu as his ideal and he has threatened India's Home Minister of dire consequences. He and his supporters damaged special seating enclosures created for senior citizens and disabled persons in the gurdwaras of Jalandhar. No action was taken against Amritpal and his supporters. Pro-Khalistani radicals in Punjab have gained courage after committing such acts.
The siege of a police station is a serious incident. These radicals are trying to spread communal disharmony by instigating Sikh fraternity. Police officials may have shown maturity in defusing the situation at Ajnala police station, but Chief Minister Bhagwant Mann and his government must understand that toeing a soft line against radicals will not help.
I remember what former Punjab CM Capt Amarinder Singh had said a year ago. He had said that radicals, taking cues from Pakistan, are trying to disturb peace in Punjab. He had said, weapons and narcotics are being pumped from across the border by radicals.
Punjab government must take Capt Amarinder Singh's advice seriously and radical preachers like Amritpal Singh must be taught a timely lesson. It would be better if the AAP government in Punjab coordinates with the Centre to handle the evolving situation carefully. Nobody should try to score political points on this sensitive issue.