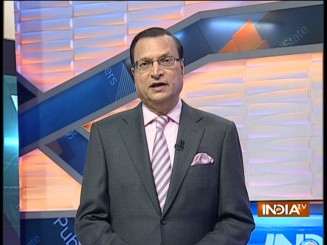 There was drama at the AIIMS hospital in Delhi on Monday, when RJD supremo Lalu Prasad, presently undergoing imprisonment in a fodder scam case, was discharged by doctors and preparations began for taking him in a Rajdhani Express to Ranchi. Lalu Prasad alleged that this was being done as part of what he called "a conspiracy". There were protests by some RJD workers at AIIMS, and police had to lodge an FIR. Lalu Prasad was taken to Ranchi amidst tight security.
There is no dispute about the fact that Lalu Prasad is unwell and he deserves better treatment. He fell ill in Ranchi, and he was shifted to AIIMS Delhi for treatment. AIIMS doctors now say, Lalu Prasad has recovered and he can be sent back. One should trust the opinion of the AIIMS medical team, because doctors at AIIMS do not take decision under any pressure.
However, a political twist was given when Congress president Rahul Gandhi visited Lalu Prasad in AIIMS on Monday. BJP president Amit Shah and JD(U) leader K C Tyagi reminded about the draft ordinance paper that was publicly tore up by Rahul Gandhi in 2013 during the last days of UPA regime. The ordinance was prepared to negate the Supreme Court verdict which had struck down a provision in electoral law which allowed a convicted MP or MLA to continue in their post if they make an appeal to a higher court within three months. Rahul Gandhi had then described the draft ordinance as "complete nonsense", and the Union Cabinet of the then PM Dr Manmohan Singh had hurriedly withdrawn the draft ordinance.
The entire drama in 2013 was enacted in order to convey a message to the public on the eve of 2014 Lok Sabha polls that Rahul Gandhi was against corruption and he was not in favour of allowing a convicted MP like Lalu Prasad to contest. The cat was out of the bag later when the then President Pranab Mukherjee revealed that he had already rejected the draft ordinance, and there was no need for Rahul to tear up the draft ordinance paper. Since people were then unaware about the President's action, the message that went down the line was that Rahul Gandhi was against Lalu Prasad's corrupt dealings.
Now the times have changed. Since Lalu Prasad is one of the founding members of the opposition front that is taking shape against PM Narendra Modi, and Rahul Gandhi is one of its members, the Congress president has now changed his track, and he went to meet Lalu Prasad in hospital.
Click Here to Watch Video | Get connected on Twitter & Facebook