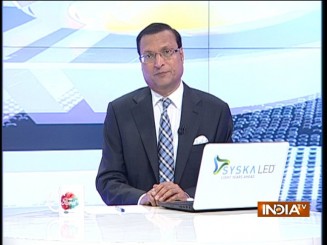 The arrest of three senior officers of Punjab National Bank – Bechhu Tiwari, chief manager incharge of Forex dept, Yashwant Joshi, Manager of Forex dept, and Praful Sawant, Officer, Export – by CBI in the Nirav Modi fraud case, on Monday clearly points toward a serious malady in the banking system. A handful of officers skimmed Rs 11,400 crore from the bank to favour jeweller Nirav Modi, who alongwith his family, has fled India.
In my Aaj Ki Baat show, I have shown how Rs 280 cr worth Letters of Undertaking were issued within a span of three days in favour of Nirav Modi's companies. This fraud was going on in the bank since the last seven years. Nearly 150 LOUs worth Rs 6,000 crore were issued from the bank between 2011 and 2017, whereas after April 2017, 143 LOUs worth Rs 3,500 crore were issued.
The initial report prepared by the Income Tax department on Monday clearly shows the trail of Rs 515 crore worth initial transactions. It has also been revealed that fake sales were shown in documents instead of actual sale of jewellery. For the first time, Nirav Modi's Hong Kong-based sister firm's name has emerged as a beneficiary.
As far as the aam aadmi is concerned, the common perception is that while he or she has to submit various documents and collaterals to get loans for cars, homes and business, and has to face constant threats and intimidation from collectors whenever an EMI is missed, here is a case where Rs 11,400 crore credit is given to firms based on dubious transactions by a gang of officials in league with the businessman.
The common man is asking questions about how a businessman can wangle Rs 280 crore credit from a public sector bank within a span of three days with the help of corrupt officials.
The documents that I produced in my show point to one thing. Normally the government tries to ensure that no entrepreneur suffers because of lack of funds, because if a business gets stuck because of lack of funds, it can render thousands of people unemployed. The government, therefore, always tries to help business and industry to carry on with their work without hindrance. To prevent frauds, there is a strong check and balance system in place, but when the guardians and keepers of public money start eating through the fence, nobody can help.
This is exactly what happened in the case of Nirav Modi. The system was in place, those officials sitting at the system were committing outright fraud, the corrupt bank officials were in cahoots with Nirav Modi, all secret passwords were being passed on, Letters of Undertaking were being freely issued bypassing the system, so that the theft could not be traced immediately. Finally, when the ship started sinking, Nirav and his family members had fled the country, taking away Rs 11,400 crore of hard earned money deposited by the aam aadmi in the public sector bank.
Click Here to Watch Video | Get connected on Twitter & Facebook