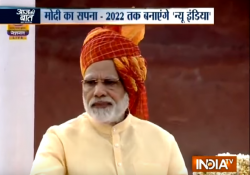 This year Prime Minister Narendra Modi dwelt on most of the issues agitating the minds of people while speaking from Red Fort on Independence Day. He responded to most of the questions raised about his three-year-old government. In his 55-minute speech, he spoke about the policies and intentions of his government.
Here I would mention three big issues. People wanted to know how the situation would improve in Kashmir valley. Modi said, his government would continue to deal firmly with terrorists but would opt a conciliatory approach towards common Kashmiris (not gaali or goli, but embrace).
The second question that is often asked is what happened to his promises to check black money. Modi disclosed that his government has so far detected Rs 1.25 lakh crore black money.
The third question that is often asked is about the benefits of demonetization. Modi said, people in the tax net are now twice than earlier and Rs 3.5 lakh crore black money has come into circulation. The Prime Minister replied to most of the questions. This is what a democracy should be about.
Click Here for the Video