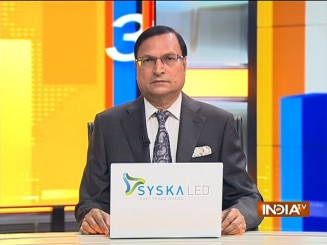 Prime Minister Narendra Modi has set the campaign tone for 2024 Lok Sabha elections. Outlining his poll strategy on Tuesday, he made it clear that the government's move against corruption will not stop. Commenting, indirectly, on the claims of opposition unity, he said, all corrupt politicians and parties have now joined hands. It is now clear that Modi government's offensive against corruption will continue, irrespective of many parties coming together to oppose it. Modi said, anti-corruption campaign has shaken the roots of some corrupt politicians. Modi wants to project before the people that on one hand there are corrupt politicians who have joined hands, and on the other hand is he, who is striking out at the corrupt. Modi reminded his partymen how Congress tried to put him in jail when he was in power. This was Modi's response to the allegation being made by opposition about alleged misuse of investigation agencies. The line is now clearly drawn for 2024 battle. Corruption will be the main issue.
RESERVATION POLICY CHANGED IN KARNATAKA
The BJP government in Karnataka has removed the 4 per cent quota for Muslims. Muslims have been moved to EWS (economically weaker sections) quota, which provides for 10 pc reservation to those from Jain and Brahmin communities. The 4 per cent Muslim quota has now been divided equally, with 2 pc going to Lingayats and 2 per cent added to Vokkaliga quota, raising their quotas to 5 pc and 7 pc respectively. There has been a spate of protests against this decision by Banjara, Vokkaliga and Muslim communities. Lingayats and Vokkaligas constitute the major chunk of voters in Karnataka. The state will go to the polls on May 10. Counting will take place on May 13. Lingayat voters decide the fate of nearly 100 assembly seats, while Vokkaligas decide the fate of candidates in 61 seats. BJP may gain political advantage because their leaders know that Muslim voters in Karnataka are not going to vote for the party. Even if Muslim voters are unhappy, they cannot harm BJP's electoral prospects. On the other hand, Congress cannot afford to alienate Muslim voters. This is the reason why Congress is openly opposing the change in reservation policy. Congress may suffer losses among Lingayat and Vokkaliga voters because of these protests, but there is no other choice. It is a case of choosing between a frying pan and fire.
WITH MAFIA GANGS SMASHED, U.P. LOOKS TOWARDS PROGRESS
UP mafia don Atiq Ahmed was given life sentence along with two others in Umesh Pal kidnapping case on Tuesday. Soon after, he was again taken in a convoy of vehicles by road from Prayagraj to Gujarat's Sabarmati jail. For the first time in 44 years, Atiq Ahmed was sentenced by a court, with more than a hundred other cases pending. Atiq was getting political protection and his gang has been using muscle power to silence witnesses. One can only wonder how a gangster sitting in a jail in Gujarat 1,270 kilometres away, can plan and execute a plan to kill a prime witness like Umesh Pal in broad daylight. Now that he has been sentenced, the faith of people in courts and police has been restored. More witnesses may now come forward to depose against this gangster. During the last six years of Yogi Adityanath's rule, Atiq and his gang members have faced the fury of police and administration. Their properties were attached, demolished and the gang's network was smashed. Atiq Ahmed is now living in a state of fear. I believe, such fear in the mind of a criminal don is necessary. The credit goes to Yogi who struck fear in their minds. Because of this sea change in UP, women today do not fear moving out of their homes, and people are living a peaceful life. Investors are now willing to invest money for setting up industries in UP. I met some bankers today. They told me that because of the changed atmosphere there has been a big expansion in the MSME (medium, small and micro enterprises) sector. Some officials of a power distribution company told me that their staff now have no fear in going to localities to check cases of power theft. Such a guarantee of security is necessary for a state like UP in its march towards progress.