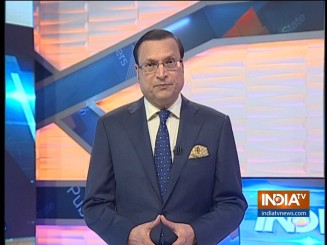 Prime Minister Narendra Modi, in his wide-ranging interview given to ANI, spoke on all major issues and did not duck a single question. He has practically set the tone for the crucial Lok Sabha elections that will take place after a few months. There were many who said that the PM did not look aggressive in the interview, but I personally feel that Modi was only giving an account of what his government has done so far. While doing so, he did not refrain from attacking the Congress, and his tone was certainly aggressive.
On Ram temple, Modi said, Congress should withdraw its lawyers from Supreme Court, who were delaying the hearing; on CBI, RBI and the judiciary, he explained how the Congress weakened these institutions in the last 70 years; on farmers' issues, he alleged how Rahul Gandhi's farm loan waiver idea was a fraud on farmers who are loaded with debts; on cross-LoC surgical strike, Modi reminded how Rahul tried to politicize the army action; on issue of corruption, the PM recalled how Sonia and Rahul Gandhi are out on bail. All these remarks were made aggressively.
In the next 100 days, the Prime Minister will be going to the people to explain how his government has provided LPG and electricity connections to poor families, gave lakhs of crores worth loans under Mudra scheme, held a tight leash on inflation and helped the middle class. In the same vein, Modi will be targeting what he called 'doublespeak' and duplicitous stands taken by the Congress. Modi already seems to have started his campaign with this wide-ranging interview and he will now be addressing 100 rallies to convey his message to the masses. His message to the anti-Modi opposition is clear: this is just the beginning.
And now, each of the major issues on which the PM spoke.
One, Ram temple. Modi's supporters, BJP workers, RSS volunteers and devotees of Lord Ram had been asking, if the temple cannot come up with Modi at the Centre and Yogi in Lucknow, then when will it be built? RSS leaders Mohan Bhagwat and Bhaiyyaji Joshi had been demanding an ordinance to clear the way for building the temple. Their argument was: if an ordinance for banning Triple Talaq can be brought, then why not on the temple? Only Modi could have answered this question. He said, the law banning Triple Talaq was brought after the Supreme Court gave its verdict. And any step to fulfill the wishes of millions of Hindus can be taken only after the judicial process in the apex court is over. Modi made it clear that he would not be going to do things in a hurry, but he will keep the aspirations of devotees of Lord Ram in mind.
Two, on Pakistan and cross-LoC surgical strike. Modi did not speak on how to deal with Imran Khan's government in Pakistan. Presently, this would have been certainly immature. What he said was, It will be a huge mistake to believe that Pakistan will mend its ways after one conflict, and it will take a lot of time to make Pakistan mend its ways. Modi explained in detail how the surgical strike decision was not taken in a hurry, though it was a huge political risk. The PM reminded how Rahul Gandhi and Arvind Kejriwal tried to politicize the issue by raising doubts about the surgical strike and using language which suited Pakistan.
Three, on Rahul Gandhi's favourite issue Rafale, Modi spoke. Rahul Gandhi had been going around the country levelling charges and challenging Modi to speak. The PM said, he had already given details about the Rafale deal in Parliament, and the Supreme Court went into the nitty-gritty of the deal before issuing a clean chit to the government. Modi said, questioning each and every defence deal tends to lower the morale of our jawans. He alleged that for the last 70 years, middlemen had been active in most of the defence deals, and this can end only with the ambitious Make in India plan.
Four, on demonetization and economic offenders, Modi said, the decision to demonetize currency notes in 2016 was not taken in a hurry. For one whole year, people hoarding black money were given opportunity to come out with disclosures, and the decision to demonetize was taken as a last resort. Modi said that prices of real estate fell drastically because of demonetization. On economic offenders, Modi explained how efforts are afoot to extradite Nirav Modi, Mehul Choksi and Vijay Mallya, who had taken thousands of crores from banks as loans and had fled India. He described the extradition of Agusta Westland middleman Christian Michel as a big achievement, and pointed out that Michel's sensational disclosures are surely going to hurt the Congress.
Click Here to Watch Full Video | Get connected on Twitter, Instagram & Facebook