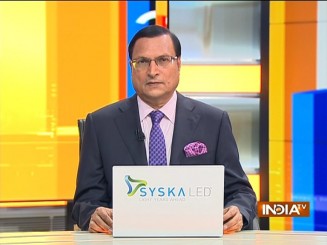 Nationalist Congress Party supremo Sharad Pawar dropped a bombshell on Tuesday when he announced his intention to resign from party chief post. Senior party leaders and workers wept and implored their party chief not to resign. On Wednesday, top party leaders again met Pawar and appealed to him to withdraw his resignation. The party supremo has sought 2-3 days' time to rethink. Sharad Pawar is one of the seniormost political leaders in India. Even at the age of 82, he is quite agile, and his political skills are marvellous. Politicians from all parties acknowledge his strategic skills. Pawar has been in active politics for nearly 60 years. He first turned the political 'roti' (bread) in Maharashtra at a very young age and in 1978, he became the youngest chief minister, at the age of 37. I have been closely observing Pawar's deft political moves since 1978. His unique ability is not to allow his right hand to know what his left hand is doing. And when Pawar makes a comment, he ensures that the next four steps are planned in advance. The political implications of what Pawar did on Tuesday cannot be gauged immediately. Nobody knows what his future plan is. Three points are clear from Tuesday's development: First, due to age and health related issues, Pawar wants rest from the hurly-burly world of politics. Second, he has realized that his nephew Ajit Pawar is unwilling to wait anymore. Ajit Pawar is impatient to see that his uncle retires soon, because he feels he is his natural successor. Any person who replaces his uncle will only be a temporary arrangement. Third, and this is the most important one: Ajit Pawar's equations in Maharashtra politics are completely different from the equations set by his uncle. If the baton goes into the hands of Ajit Pawar, the entire political scene in Maharashtra will undergo a fundamental change. For political watchers, it will be better to wait and watch which way the wind is moving.
MODI'S BAJRANGBALI STROKE
Karnataka will be going to polls eight days from now, and politicians of all hues have joined the campaign. On Tuesday, Prime Minister Narendra Modi changed the campaign narrative, minutes after the Congress manifesto was released. Congress has promised to restore reservation for Muslims, withdraw the law banning cow slaughter, and enforce a ban on outfits spreading hate. Names of Bajrang Dal and PFI were mentioned in the manifesto. Modi picked this up, and gave it a twist, forcing Congress leaders to explain that they were not opposed to Bajrangbali (Lord Hanuman). Modi mentioned how Congress put locks on Ramjanmabhoomi temple in Ayodhya and now it plans to lock up Lord Hanuman. In response, Congress spokesperson Pawan Khera recited Hanuman Chalisa at his press briefing. With Congress on the defensive, BJP leaders piled up the pressure and branded Congress as pro-Muslim and anti-Hindu. On Wednesday, Modi chanted the slogan 'Bajrangbali Ki Jai' at his rallies. On the other hand, Congress leader Priyanka Gandhi, at her meetings, countered saying, BJP should fight the elections on real issues. Watching Priyanka speak, I can say that she is a better orator than her brother Rahul Gandhi. At least Priyanka raises issues, and in each of her speeches, there is something new. The biggest problem facing Congress is that Rahul Gandhi is their top campaigner who is facing a stiff challenge from Modi. The PM is better in oratory and knows where and how to strike. Secondly, BJP's strategy is clear, while Congress is in a state of confusion. Congress does not want to alienate Muslim voters and at the same time, it wants to project itself as a well-wisher of Hindus too. It was because of this that the party equated Bajrang Dal with PFI. With Modi raising the Bajrangbali issue, Congress leaders are now busy finding ways to counter his attacks.
WFI CHIEF'S TANTRUMS
Embattled Wrestling Federation of India chief Brij Bhushan Sharan Singh flared up on Tuesday during a live debate on India TV, when he was confronted by our anchor Sourav Sharma, with an affidavit that mentioned allegation of sexual harassment made by a female wrestler. During the interview, Singh even named the female wrestlers who have made allegations, but when Sourav started reading from one of the affidavits, Singh abruptly ended the interview. Sourav Sharma was quoting from the affidavit in which it was alleged that an adolescent female wrestler told an inquiry committee that Brij Bhushan Sharan Singh called her to his office and tried to inappropriately touch her. Wrestlers sitting on dharna at Jantar Mantar were watching the India TV debate live and they later said this was the real face of WFI chief. Wrestler Vinesh Phogat said, 'if Singh can do this on national media, think about what he might have done with athletes inside closed room'. I have watched the entire TV interview. Sourav Sharma was asking questions like a professional anchor, and he did not say anything which could have forced Singh to leave the interview abruptly. While Singh was quoting from inquiry committee report in his defence, Sourav started reading from the affidavit given before the committee in which the victim clearly alleged sexual assault on part of Brij Bhushan Sharan Singh. This got the goat of WFI chief and he abruptly stopped the interview. I would like to say: those in public life must have the patience to listen to allegations. Elected representatives must be accountable to the people. The tantrums that Singh displayed while replying to media's questions, shows his weakness. Those who fear that they may be exposed, indulge in such tantrums by taking off the mike and threatening the media. I want to make it quite clear, we in India TV have never feared, nor will ever fear in the face of such threats. I give an open invitation to Brij Bhushan Sharan Singh to come as my guest in 'Aap Ki Adalat' show and face India's champion wrestlers, so that people at large can know who is speaking the truth.
GAMBHIR VERSUS KOHLI
The fracas between Gautam Gambhir and Virat Kohli after the IPL match in Lucknow, shown live on television, has shocked all cricket lovers. Gambhir is the mentor of Lucknow Super Giants and Virat Kohli is the star batsman of Royal Challengers Bangalore. Soon after LSG lost to RCB by 18 runs, Gambhir displayed temper tantrums in front of Kohli, and the two had to be separated. One thing is clear: Gambhir envies Virat Kohli's huge popularity and success. Both are top players from Delhi, but Gambhir could never accept the fact that Kohli has left him far behind in the performance stakes. Kohli was out of form recently, and Gambhir started writing him off. He used to make fun of Kohli. The latter replied with his bat during IPL and Gambhir could not stomach this. After being elected as a Member of Parliament from Delhi, Gambhir became more arrogant. What happened on Monday night at the Lucknow stadium clearly showed that Gambhir was unwilling to accept Virat's popularity. Virat Kohli is a cricketer who has always been aggressive. He never tolerates any nonsense. But this time he was trying to explain to Gambhir as to what happened. But Gambhir was not willing to listen. Overall, what Gambhir did was against sportsman spirit. Such incidents are not good for cricket.