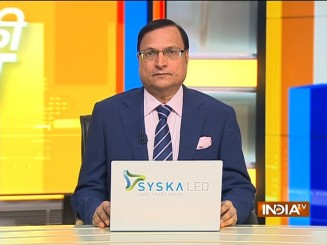 Leaders of 15 opposition parties met in Patna on Friday and expressed their resolve to fight the 2024 Lok Sabha elections unitedly to defeat Narendra Modi and BJP. However, towards the end of the meeting, Aam Aadmi Party skipped the joint press conference saying it will not be part of any alliance with Congress unless it denounces Delhi ordinance. All the leaders who attended the meeting said, Narendra Modi is an autocrat, he has crushed democracy, all parties must unite to save the republic and Constitution. But BJP leaders pointed out that most of the leaders actually want to save their legacies. They said, among those who attended the meeting were Sharad Pawar and his daughter Supriya Sule, Lalu Yadav and his son Tejashwi, and Uddhav Thackeray and his son Aditya. BJP leaders allege that these parties and leaders have nothing to do with Constitution, whether it is Rahul Gandhi, or M K Stalin, Mehbooba Mufti or Akhilesh Yadav, Hemant Soren or Omar Abdullah. They also say that all these leaders are presently running the parties of their parents, and they have come together not to save India, but to save their families. However, my view is that the 'fevicol' that joins all these leaders is something different. One thing that I noticed as common about these leaders, who have been forced to sink their differences and come together, is the pile-up of ED, CBI and I-T cases. All these leaders or their relatives are tied up in the mesh of investigations. ED and CBI cases have deeply hurt their self-respect. In earlier regimes, there used to be cases before Modi became PM, but the number of these cases used to be few. Someone or other used to save some leader, investigations used to took place and they appeared in courts, but there was no fear of going to jail. The 30 leaders from 15 parties who were seen today in Patna, have one, two or four close relatives languishing in jail. All these leaders know, that till the time Narendra Modi is Prime Minister, it will be difficult to protect their skin. Those who managed to join BJP, left their parties, and those who could not leave their parties are now busy in the opposition unity drive. This, in my view, is an alliance of wounded satraps. If the alliance continues, it will definitely have effect. As of today, I can only say, they may not be able to form a government, but they can surely emerge as a strong opposition.
WHY IS KEJRIWAL UNHAPPY?
At the Patna meeting, Delhi Chief Minister Arvind Kejriwal raised the Delhi ordinance issue and asked Congress to oppose it in Parliament. He was interrupted by Omar Abdullah who asked why AAP did not join the opposition in opposing revocation of Article 370 in Parliament. Congress President Mallikarjun Kharge came with a bunch of newspaper clippings and asked why AAP leaders issued provocative statements against Congress a day before the Patna meeting. Congress general secretary K C Venugopal said, it was just like putting a pistol to someone's head in the name of seeking support. Rahul Gandhi did not say anything on the issue. One thing we must understand, it is essential for Kejriwal to get the Delhi Ordinance Bill defeated in Parliament. If the ordinance is approved in Parliament, powers of appointing officers in Delhi government will rest with the Centre and Kejriwal will be reduced to a helpless chief minister. But the problem with Congress leadership is that its local units in Delhi and Punjab do not want to support AAP at any cost. They feel that if Congress has to be revived in both these states, it will have to fight AAP, and the party cannot do anything that could strengthen Kejriwal's hands.
MAMATA'S PROBLEM
This problem is not only between AAP and Congress. In West Bengal, Congress leader Adhir Ranjan Chowdhury sat on dharna against Mamata Banerjee's government on panchayat election violence issue. He has alleged TMC activists have prevented Congressmen from filing nominations by carrying out bomb blasts and causing bloodshed. BJP leader Smriti Irani said, if Mamata Banerjee wants to forget her past enmity with the Left and be part of the alliance, it will mean she is more worried about her self-interest rather than her self-respect. But the problem with Mamata Banerjee is not Congress or the Left or BJP. Her main problem is with CBI, ED and the Governor. Mamata knows she can fight BJP on her own in Bengal, but she cannot fight CBI, ED and the Governor alone. Just like Kejriwal needs Congress to defeat the Delhi Ordinance bill, Mamata needs the support of other opposition parties in her fight with the Centre.
MEHBOOBA AND OMAR'S PROBLEMS
In Jammu and Kashmir, Mehbooba Mufti's PDP and Omar Abdullah's National Conference are political rivals, but they are now on the same platform because of Modi's power. At the joint presser, Mehbooba alleged India is fast losing its secular moorings, Muslims are facing excesses and the beginning has been made in Kashmir. Omar Abdullah blamed Modi for depriving Jammu and Kashmir of its statehood and delaying elections. Today Mehbooba Mufti is speaking about Idea of India, about Gandhi and Nehru, but in 2019, it was she who had said, if Article 370 is revoked, there will not be a single hand in the Valley that will raise the national tricolour. Kashmir has today marched much beyond all this rhetoric. Omar Abdullah described Kashmir as a 'badnaseeb' (unfortunate) land, but one should ask him whether Kashmir was not 'badnaseeb' when his party's government was in power. There was terrorism, separatists, Hurriyat, stone throwers, and now that there is peace in the Valley, and it is marching towards progress, it has become a challenge for Omar and Mehbooba.
UDDHAV THACKERAY'S PROBLEM
Shiv Sena (UT) chief Uddhav Thackeray briefly said at the joint presser that all the parties belong to different ideologies and it could be a problem in bringing about coordination, but all of them will have to come together to defeat BJP. Mehbooba Mufti was sitting near Uddhav Thackeray at the press conference. BJP leader Devendra Fadnavis commented on this wryly, "till yesterday Uddhav was questioning why BJP had formed a coalition with Mehbooba, and today he is sitting with her to plan how to fight the elections unitedly….It is not 'Save Democracy', it is 'Save Family'." Uddhav Thackeray's problem is that Shiv Sena is closer to BJP as far as ideology is concerned, but in order to grab power, he needs the help of Sharad Pawar and Rahul Gandhi. When Uddhav Thackeray formed the Maha Vikas Aghadi government and became CM, the allegation was made that he compromised with his ideology. Now Uddhav has neither the party with him, nor its election symbol or party name, and for his survival, it is a compulsion for him to join the alliance.
LALU : THE STRATEGIST
Bihar Chief Minister Nitish Kumar was the host of the meeting, but the actual strategist who brought the top 15 opposition leaders together was Lalu Prasad Yadav. After several years, Lalu was in his element on Friday. With his wisecracks and loaded remarks, Lalu made it quite clear that it was he who brought the opposition parties together. At the joint press conference, both Lalu and Nitish Kumar gave importance to Rahul Gandhi. Lalu joked about Rahul's beard and publicly advised him not to grow his beard longer. He then advised Rahul to marry early. Rahul was feeling uneasy, he wanted to say something, but Lalu interrupted him and said, he had still time to marry, and all the opposition will join his 'baraat'. Lalu Yadav has faced several serious challenges during the last few years. After staying in jail for a long period, he fell ill, got kidney transplant done in Singapore, and on Friday, I felt happy seeing that he has recovered. He had his trademark mischievous smile on his lips. Even his rivals admit that there is no other leader who can make instant repartees and wisecracks like Lalu. I have a different type of relationship with Lalu. Thirty years ago, my first episode of 'Aap Ki Adalat' with Lalu Prasad Yadav was a super hit. Whenever Lalu meets me, he demands royalties. I was happy to see him get his old flair back.