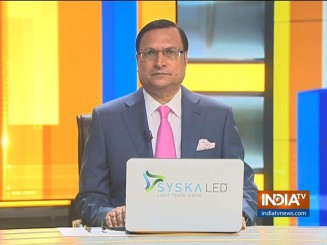 Work in both Houses of Parliament has been stalled for the last four days due to sloganeering from both sides. While BJP is demanding Rahul Gandhi's apology for insulting India by making 'democracy under attack' remarks, the opposition is demanding a joint parliamentary committee probe into Adani controversy.. Rahul Gandhi came to Parliament for the first time on Thursday and said he would like to speak if allowed to do so inside the House. The moot point is, by making 'democracy under threat' remarks in Britain, Rahul Gandhi has given BJP a big issue. Several opposition leaders feel that Rahul's remarks have taken the wind out of their sail, because they had been raising the Adani group issue for more than a month. The situation now is that both the sides are now using Parliament and media for their one-upmanship. Both sides want to project themselves as 'clean' before the people. As a result, work in Parliament has come to a standstill, and public money is being squandered.
LALU IN A WHEELCHAIR IN COURT
On Wednesday, RJD supremo Lalu Prasad Yadav, sitting in a wheelchair, along with wife Rabri Devi and daughter Misa Bharati appeared in a Delhi court in the 'land-for-jobs' scam. The court granted bail to all 15 accused including the above three. The next hearing will be on March 29. There was celebration in the RJD camp in Patna as if Lalu Prasad has won the case. Since CBI did not arrest Lalu or any other accused in this case, and since chargesheet has been filed, the court granted bail. Earlier, Supreme Court had given verdicts clearly saying that if an accused is not arrested during investigation, and if chargesheet has already been filed, then the accused can be granted bail in all cases except a few. Whatever be the merits of this case, Lalu Prasad is bound to gain sympathy as he was shown wearing a mask and sitting in a wheelchair. Lalu has undergone kidney transplant in a Singapore hospital, his immunity level is low. There is risk of infection spreading if he moves in a crowd. It would have been better if he had not been summoned to appear in court. Politics apart, Lalu Prasad should have been granted exemption from appearance, given his medical condition.
MAHARASHTRA
On one hand, government employees in Maharashtra have gone on indefinite strike since the last three days demanding restoration of Old Pension Scheme, while on the other hand, thousands of farmers, ASHA workers and tribals are on a 200-km-long march from Dindori, Nashik, to Mumbai. They are demanding Rs 600 per quintal for onion growers, 12 hour continuous power supply and waiver of farm loans. Farmers in Maharashtra are not getting remunerative prices for their crops. In my 'Aaj Ki Baat' show, I had shown how a farmer got a cheque of only Rs 2.49 paise after selling 512 kg onion in Lasalgaon market. On the other hand, onion is being sold at Rs 25 a kg to consumers. The Rs 300 per quintal subsidy proposed by the state government to onion growers is inadequate. Farmers say, it costs nearly Rs 1,200 to grow and transport one quintal of onion. Similarly, potato, tomato and garlic growers are also facing problems. Government must pay attention to their grievances. The farmers had been raising their problems for more than a month. Had the Shinde government spoken to them, they would not have marched to Mumbai. It appears, Chief Minister Eknath Shinde is busy breaking away leaders from Uddhav Thackeray camp. In the process, the common people are facing problems.