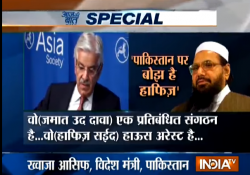 The statement by Pakistan Foreign Minister Khawaja Mohammed Asif at the Asia Society event in New York that (Lashkar-e-Tayyaba chief) Hafiz Saeed and Haqqanis have become liabilities for his country clearly underscores the fact that Pakistan stands isolated in the world arena on the issue of terrorism. Khawaja Asif admitted by saying, "I accept that they are liabilities, but give us time to get rid of these liabilities". He was also on the defensive, when he said, "Don't blame us for Haqqanis, don't blame us for Hafiz Saeeds. These were the people who were your darlings, 20 or 30 years back. They were being dined and wined in the White House."
The Pakistani leadership is clearly finding itself isolated in the whole world on the issue of terrorism. On one hand, India is putting relentless diplomatic pressure, notably through the fine speech made by External Affairs Minister Sushma Swaraj at the UN General Assembly and our Prime Minister Narendra Modi at almost all international gatherings, and on the other hand, the Donald Trump administration in the US has also started to tighten up the screws on Pakistan.
Ostensibly, Pakistan is showing to the world that it has put Hafiz Saeed under house arrest, but in reality, the Lashkar and Jamaat ud Dawah led by Saeed continue to run terror training camps without fetters inside Pakistan. Until and unless the Pakistan army and the political leadership realize that elimination of all brands of terrorism is in the interest of Pakistan, no serious action will be taken on the ground level against terror outfits, whether on the India-Pak border or on the Pak-Afghan border.
Click Here for the Video