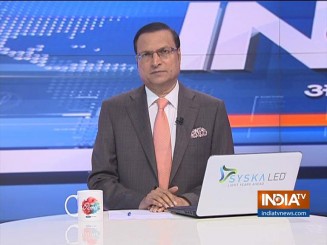 The new Indian Air Force chief Air Chief Marshal Rakesh Kumar Singh Bhadauria has given an oblique warning to Pakistan not to resort to any terror misadventure in view of bilateral tension over abrogation of Article 370 by India.
On Friday, the IAF issued a promotional video which showed the air strike power of our air force. The video has clips of people expressing anger after the Pulwama terror attack, a few shots of officers sitting in a war room planning an operation, followed by clips of Mirage fighter jets taking off. There are also a few clips of IAF jets destroying terrorist bases and a couple of satellite images showing the areas which were hit.
The Air Chief was quick to clarify that it was not a video of Balakot air strike, but was a promotional video for Air Force Day (October 8). But the accompanying remarks of the IAF chief should act as a warning to Pakistan.
The Air Chief said, "we were prepared then, we will be prepared next time, we will be ready to face any challenge, any threat". He also said, the air force is aware of the reports (of Pakistan reactivating terror camps at Balakot), and we will take necessary action as and when required.
We must recall what Pakistan Prime Minister Imran Khan said while addressing the UN General Assembly. He had claimed that the IAF could only destroy eight or ten trees in Balakot, and there was no other damage. The fact is that the IAF completely destroyed the Jaish terror camps that were active in Balakot using the latest smart bombs. Till this date, Pakistan army has not allowed mediapersons to visit the destroyed terror base in Balakot freely.
Imran Khan had also warned at the UNGA that terror groups may launch more attacks inside India after the abrogation of Article 370. The Indian Air Chief has now given his reply effectively, both through words and pictures.
Click Here to Watch Full Video | Get connected on Twitter, Instagram & Facebook