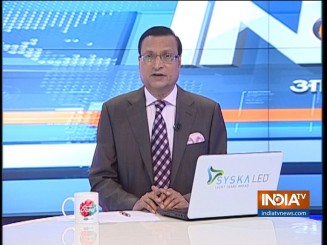 On February 26, when 12 Indian Air Force Mirage jets bombed a Jaish-e-Mohammed training camp in Balakote of Khyber Pakhtunkhwa province, more than 50 km inside Pakistan, Pakistani army spokesman told the world that there was no camp at the spot, and the 'smart bombs' that IAF jets delivered had fallen on open ground, and damaged only a few trees. The next day the Pakistani army conducted a press party to the spot and produced 'tutored' villagers who said there was not much damage in the area. The logical question is: Had there been not widespread damage, why did the Pakistan Air Force then tried to carry out a counter air-strike near the Line of Control the next day?
The lies are being exposed, one by one. Jaish chief Masood Azhar's brother recently issued an audio message admitting that IAF planes attacked their camp, while sources in the National Technical Research Organisation (NTRO), a technical intelligence agency under the PM's National Security Adviser, have revealed that there were more than 300 cellphones 'active' at the spot, on the night the IAF raid took place. It is a clear piece of evidence that not less than 300 Jaish operatives and their handlers were presumably present inside that camp that night, and all signs of the terror camp were removed by the Pakistani army soon after the air strike.
Pakistan's second lie was that its F-16 fighter jet was not downed by IAF near the Line of Control the next day. On Thursday, senior Indian Air Force officers showed in Delhi, the broken pieces of AMRAAM missile, that can only be fitted to an F-16 jet. Pakistan has been suppressing news about the death of its own pilot who was flying the ill-fated F-16 jet. It has refused to accept that its pilot is dead. A day earlier, the Pakistani army spokesman had claimed that two IAF pilots were killed, but later the spokesman reduced the number from two to one on his Twitter handle.
The third lie that Pakistani social media peddled on March 4 was that IAF jets sent a missile near Fort Abbas in the Cholistan desert of Pakistan. Still pictures and video of the missile were circulated. Later the Indian Air Force announced that its Sukhoi jet has shot down a UAV (unmanned aerial vehicle) that was hovering on the Pakistani side.
Spinning lies and then peddling them on media has been a standard trait of the Pakistani army establishment. What can one say when Pakistan, which is home to the largest number of terrorists and terror outfits, claims that it is itself a victim of terror? What can one say about Pakistan, which sends 'non-state actors' to carry out terror strikes in India, and then demands 'actionable evidence'?
My view is that, a rogue country like Pakistan should never be allowed to live in peace, so long as its army does not uproot all the terror camps that it has been nurturing. It is in this context that our Air Force Chief ACM B. S. Dhanoa said on March 4 that the current operation against terror camps in Pakistan is 'ongoing'.
Click Here to  Watch Full Video | Get connected on Twitter, Instagram & Facebook