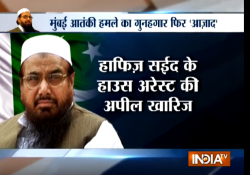 Lashkar-e-Taiba and Jamaat-ud-Dawa chief Hafiz Saeed, who has been designated a global terrorist by the US and UN, has been set free by a Judicial Review Board of Lahore High Court on Wednesday.
The Pakistan Punjab government had sought a further three-month extension for Saeed's detention, but it was rejected on grounds that no sufficient evidence has been provided by the authorities. Here, in India, nobody expected Pakistan to punish Hafiz Saeed, nor was it expected that the Pakistani authorities would submit any concrete evidence against him in court. There was no such hope, nor should we hope.
Pakistan had put Hafiz Saeed under house arrest after considerable pressure from the US. Pakistan's foreign minister Khawaja Asif had himself said 'Hafiz Saeed and Lashkar-e-Taiba are a liability for us', but these same leaders will now say that they have no control over courts which have released the terror mastermind of 26/11 Mumbai attacks. Pakistan government will never disclose what evidences, that have been received from India had been submitted before the board. The core question that remains is related to Pakistan's intention. Until and unless Pakistan's intentions are clear, no solution can be achieved.
Click Here for the Video