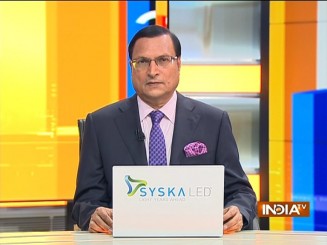 Pakistan was thrown into turmoil on Tuesday after former Prime Minister chairman Imran Khan was suddenly arrested by a contingent of Pak Rangers in connection with a corruption case. He was pushed, shoved and dragged by his neck by Rangers personnel, and whisked away from Islamabad High Court premises in an armoured vehicle. Pak Rangers personnel broke window panes, forcibly entered the High Court premises and nabbed the former PM. Soon after, incidents or arson and stoning took place late through the night in almost all major cities of Pakistan. Imran as arrested by National Accountability Bureau in connection with a corruption case involving money laundering through Al-Qadir University Trust. He was kept at police lines on Tuesday night and his health was checked by a team of doctors. It does not matter in which case Imran was arrested. The people of Pakistan know that Prime Minister Shahbaz Sharif's government had filed 121 cases against Imran Khan, and in recent months, security forces tried to arrest him several times but failed. This time, the plan for his arrest was meticulously planned and executed by the all-powerful ISI (Inter Services Intelligence) of Pakistan army. The reason behind the aggressive stance of ISI towards Imran Khan is no secret. Imran had been alleging for the last several days that senior ISI officer Maj Gen Faisal Naseer has been working as 'Dirty Harry' and had tried to assassinate him twice. The ISI officer is now trying to prove Imran Khan wrong. The former PM, who had been travelling in a wheel chair for the last several months, was forced to stand up and walk to the armoured vehicle. The ISI major general will now try to prove that Imran Khan was never hit by a bullet in his leg, and it was a drama. The arrest was a clear ISI action, but the role of Prime Minister Shahbaz Sharif cannot be ignored. The Pak Rangers personnel, who broke the window panes of the court room, and dragged Imran by his collar, normally take orders from the Interior Minister of Shahbaz's government. Visuals of the manner in which Imran Khan was arrested and dragged to an armoured vehicle are sure to generate public sympathy for him. The situation in Pakistan is surely going to deteriorate as violence spreads in several provinces. The sad part is that there is nobody to control the situation. While the Pakistan army is siding with Shahbaz Sharif, the judiciary is with Imran Khan. Both camps are trying to settle scores. This is surely going to spiral the crisis out of control. As far as India is concerned, instability in the neighbourhood is not good news. One can douse fires in one's own house, and if there is a fire in a neighbour's house, who is your enemy, the heat of the flames can cause concern for the neighbourhood.
THE KERALA STORY: BEATING UP MOVIEGOERS IS A CRIME
In Belur, Howrah, West Bengal, police on Tuesday attacked moviegoers at the Forum Rangoli Mall theatre and disrupted screening of 'The Kerala Story'. BJP leaders, including Dilip Ghosh, condemned the action. In Maharashtra, NCP leader Jitendra Ahwad demanded action against the makers of the movie. While movie goers are flocking to theatres to watch this controversial film, one fact must not be noted. The movie may not have attracted much political action, were it not for the Karnataka assembly elections. Had Prime Minister Modi not mentioned the movie in one of his election speeches, this issue would not have got much traction. Love Jihad is not a new issue. BJP had been raising the matter of girls in Kerala being converted to Islam and sent to join ISIS. There is politics going on from both sides. Those opposing and banning this movie want to keep their Muslim vote bank intact. The surprising part is that when the Centre prohibited screening of the BBC documentary on 2002 Gujarat riots early this year, it was Mamata Banerjee who had opposed this ban. And now, it is Mamata's police which is disrupting the screening of The Kerala Story movie. Those who were speaking about freedom of expression are now silent about the ban imposed by Mamata Banerjee's government. My view is: whatever may be the political objectives, it is a crime to use police to bash up cine goers who want to watch a movie. This is not acceptable.
POLITICAL DRAMA IN RAJASTHAN
Dissident Congress leader Sachin Pilot on Tuesday said, it is now clear that Chief Minister "Ashok Gehlot's leader is Vasundhara Raje and not Sonia Gandhi". Pilot said, people now clearly understand why Gehlot did not order probe into allegations of corruption during Vasundhara's rule. Pilot will start a five-day padayatra from Ajmer to Jaipur. Another Congress minister Pratap Singh Khachriawas said, Gehlot's government was saved in 2020 by Sonia Gandhi and nobody else. My view on this is: the entire world knows how Pilot led the revolt against Gehlot, but Congress is unwilling to accept this. Everybody knows how Gehlot, through clever moves, sabotaged the Congress leadership's plan to change the CM, but Congress is unwilling to accept this. Everybody understands if Gehlot and Pilot continue fighting like this, Congress may suffer electoral reverses in assembly polls this year. The most interesting part is, Pilot is trying to prove that Gehlot and Vasundhara Raje are in cahoots, and this is worrying the BJP leadership.