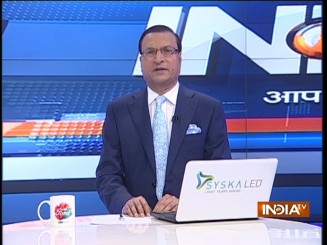 At the groundbreaking ceremony of Kartarpur Sahib corridor on Wednesday, Pakistan Prime Minister Imran Khan called for better ties with India and claimed that both the civilian and military leadership were "on the same page" on the issue of India-Pakistan relations. He said, both the nuclear-armed nations cannot go to war "as we will all lose". He also spoke of resolving the Kashmir issue, "provided the leaderships of both countries are determined".
Clearly, Imran Khan was playing to the gallery, attended by foreign diplomats specially brought by a special PIA plane to a religious function. Imran Khan was trying to project himself as an ambassador of peace, but the ground realities are completely different.
Pakistan continues to arm and export terrorists into India, and the sight of a Khalistani separatist Gopal Singh Chawla sitting among the VIPs and shaking hands with the Army Chief underlined where the priorities of the Pakistani leadership lie. Chawla later posted a picture of him meeting Punjab minister Navjot Singh Sidhu on his Twitter handle, to gain public sympathy.
Pakistan has a long history of offering its hand of friendship to India and then stabbing in the back. Former PM Atal Bihari Vajpayee went on a bus to Lahore to smoke the peace pipe with the then Pakistani PM Nawaz Sharif. Within months, Pakistani soldiers invaded Kargil.
Prime Minister Narendra Modi invited the Pakistani PM to his swearing-in ceremony in Delhi and then went out of his way to attend Nawaz Sharif's birthday party in Lahore, but within days, Pakistani terrorists attacked our Pathankot air base.
Clearly, the Pakistan army is dictating terms to its civilian leadership on how to deal with India. The presence of a Khalistani separatist at a religious function attended by two Union ministers from India underlines the approach of the Pakistani top army brass.
Punjab minister Navjot Singh Sidhu was the other point of focus at the Kartarpur corridor function. The speeches and actions of Sidhu and Imran Khan clearly point to a collusion between the two former cricketers. When Sidhu praised Imran Khan to the skies at the function, the latter applauded, and when Imran praised Sidhu, the latter was seen gleefully clapping. This was a not a sight pleasant to the eyes of Indian viewers.
Actually, the official invitation was sent to Punjab chief minister Capt Amrinder Singh, but it goes to the credit of Captain that he declined the invitation saying that he would visit Kartarpur Sahib, only when Pakistan stops exporting terrorists to India. The CM is on record of having said that he tried to dissuade Sidhu from attending the function, but the latter stood his ground and listened to the words of Pakistani PM instead of listening to his own CM. This is not going to go down well with the people of Punjab, and Sidhu may have to face political loss.
Click Here to Watch Full Video | Get connected on Twitter, Instagram & Facebook