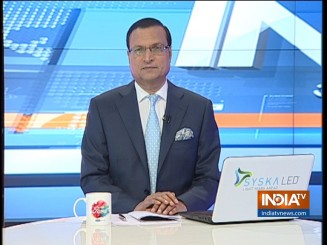 India TV on Wednesday night showed exclusive visuals of how Pakistani authorities were sealing offices of Jaish-e-Mohammed and Lashkar-e-Toiba in Lahore after the recent ban and allowing their cadres to lie low for a few weeks. We have also shown statements from senior Pakistani leaders who are openly saying that this action is purely temporary.
The Army spokesman's claim takes the cake. Maj. Gen. Asif Ghafoor, the Pakistani army spokesman, said at a briefing on Wednesday that Jaish-e-Mohammed does not exist in his country after the recent ban.
Clearly, Pakistan is under intense international pressure to take action against terror outfits. The world has taken notice of the brutal suicide bombing in Pulwama in which 40 CRPF jawans were martyred. Jaish chief Masood Azhar's whereabouts are not being officially acknowledged, and his brother and son and 42 other leaders have been rounded up, only to be taken into 'protective custody'.
India does not trust Pakistan's words and actions. After 26/11 Mumbai terror attacks and the Pathankot air base strike, similar actions were taken against terror outfits, but soon afterwards these terror masterminds and their henchmen came out in the open and carried on with their nefarious terror activities. The only difference this time after the Pulwama attack is that Indian aircraft entered Pakistani airspace, decimated the terror camp on Pakistani soil, and the world stood by India on the issue of terrorism.
Soon after the Pulwama terror attack, Pakistan, anticipating a major strike, sent all the Jaish terrorists and huddled them inside the camp in Balakote, which was made a target by Indian Air Force on February 26. Indian intelligence agencies had gathered information about terrorists and their sympathizers making calls to Balakote, and on the basis of these info, the plan to target Balakote was prepared. Our air force hit the target perfectly and it was almost 80 per cent success, and this was later proved from other evidences gathered by our intelligence agencies.
Click Here to  Watch Full Video | Get connected on Twitter, Instagram & Facebook