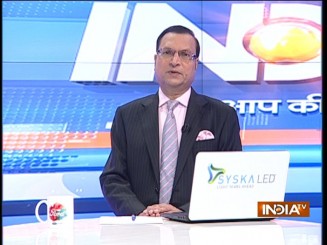 Exactly a day before the movie Padmaavat was set to be screened in cinema theatres across India, multiplex theatre owners came out with their decision not to screen the movie in four states: Rajasthan, Gujarat, Madhya Pradesh and Goa. The cinema hall owners have been watching the situation as it unfolded and have found to their dismay that the state governments and their police were not acting tough against the protesters, who have been indulging in vandalism, stoning of buses and arson.
The most despicable incident took place in Gurugram, where vandals stoned a school bus and children had to hide behind the seats to save their lives. In Gujarat, an ambulance was attacked by protesters. No true Rajput will indulge in such condemnable acts. Descendants of Rana Pratap will never attack school children or an ambulance. Those who did this must be brought to book. Such vandals bring a bad name to the Rajput community, and not Padmaavat.
The movie Padmaavat has been cleared both by the Censor Board and the Supreme Court, and the cinema going public, by and large, is in favour of allowing it to be screened, but a handful of protesters are still indulging in vandalism, without any fear of being arrested. These vandals are tarnishing India's image across the world, and there is nobody to stop them.
I think votebank politics has a major role to play behind the stance of state governments. Political parties in these states are worried about their Rajput vote banks. It was because of this that the governments of four states had declared, much before the SC order, that they would not allow screening of Padmaavat, in UP, Haryana, MP and Rajasthan. The Supreme Court specifically asked these state governments to remove the ban. The state governments filed their review petitions and these too were set aside. By doing this, the state governments are trying to convey to their vote banks that they tried to their best to prevent the screening of the movie. The state governments provided security at multiplexes, but police was told to be soft while dealing with the protesters.
There could be two reasons behind this. One, the message would go to the Rajput community that the government strongly sympathises with them, and, two, if the police acted tough, the outfit called Karni Sena would gain an upper hand by making a big issue out of it. The Gujarat government has already seen the consequence of police using its power against Dalits. In Haryana, during the Jat reservation agitation, police resorted to lathicharge and firing, and yet the agitation intensified. The state governments are therefore wary of taking tough measures, and Karni Sena is taking full advantage of this. I still believe the protests will die down, once the protesters watch the movie themselves.
Click Here to Watch Video | Get connected on Twitter & Facebook