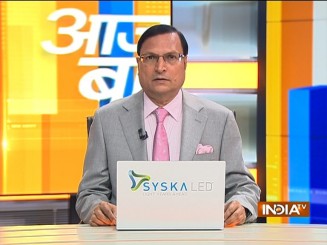 In a hard-hitting speech on the occasion of Jumatul Vida, the last Friday prayer of Ramzan at Mecca Masjid in Hyderabad, AIMIM chief Asaduddin Owaisi alleged that the three killers of mafia don Atiq Ahmed and his brother Ashraf, were part of a 'terror cell' which has been training youths in firing weapons. Owaisi alleged, 'these killers of terror cell are trying to fulfill Nathuram Godse's dream'. He questioned why Unlawful Activities Prevention Act (UAPA) has not been used against these killers. Owaisi normally gives fiery speeches, backed by facts, and most of his followers believe in what he says. But the manner in which Owaisi spoke on Friday was political rather than factual. He tried to give a Hindu-Muslim angle to the killings of Atiq and Ashraf, but tthe fact is that neither Atiq nor his brother were saints. They were mafia gangsters. Of course, their murders can never be justified, but to allege that Muslims are being killed in India, while being tied in chains, is not correct. Atiq's killers had no past background of enmity towards the mafia don, and police still suspects that the mastermind is someone else, and the killers were mere pawns. The entire probe is towards finding answers to the question about motive. To project the killings of Atiq and Ashraf as the work of some 'terror cells' is not justified. Owaisi was right when he said, the perpetrators of Mecca Masjid blast have not been punished, the accused in Ajmer Sharif blast went scot-free, all the accused in Naroda Gam massacre in Gujarat were acquitted, and all accused in Maliana (Meerut) massacre of 1987 were also acquitted. But one must note: all the accused were acquitted by law courts and the verdicts can be challenged in higher courts. Levelling charges that Muslims are not safe in India, on the basis of court verdicts, does not behove an experienced barrister and shrewd leader like Owaisi. As far as the murders of Atiq and Ashraf are concerned, the probe is on, and police is going to carry out narco-analysis tests of the killers. Police is looking out for other criminals of Atiq gang, who have gone underground after Umesh Pal's murder. For Owaisi, such facts do not matter because they do not suit his style of politics. Owaisi brand of politics leads to situations like the one in Patna, where some Muslims, after Friday prayers, shouted slogans in support of Atiq Ahmed. Some Samajwadi Party leaders are also openly supporting the slain don. It's true there are many questions in the minds of common people about the killings of Atiq and Ashraf. They want to know the real mastermind behind the killings, who trained the killers and gave them costly pistols. UP police is still trying to unravel the mystery. But leaders like Owaisi, Shafiqur Rahman Burq, Maulana Tauqeer Raza and Maulana Sajjad Nomani are using this incident to grind their political axe. They are trying to sow seeds of hatred in the minds of Muslims towards police, the system and the government. This is not good for our country. The only solution is that UP police must swiftly find out who the mastermind was behind Atiq and Ashraf's killings.
CBI SUMMONS SATYAPAL MALIK
On Civil Services Day, Prime Minister Narendra Modi asked civil bureaucrats to take a strong stand against corruption and misuse of public money. He said, India's rural economy is transforming because of mass digitalization, as mobile data in our country is the cheapest in the world. Millions of fake ration card holders, illegal Aadhar card holders and fake beneficiaries of welfare schemes have been weeded out with the help of digitalization, he said. Soon after Modi's speech, came news of CBI summoning former J&K Governor Satyapal Malik for questioning in connection with some corruption related cases. Malik had told an interviewer that he was offered Rs 300 crore bribe money in connection with a hydro power project and a group insurance scheme. Most of the disclosures have been made by Malik himself. After getting CBI summons, he tweeted that 'since I have spoken the truth, I have been summoned, but I am a farmer's son, and I will not be scared'. This is not the first time Malik has been questioned. In September last year, he was questioned by CBI in connection with a hydro power project. The problem with Malik is that, it was he who first levelled the charge of corruption in public, and now he is caught in a quandary as to what facts to reveal to the CBI during questioning. The point is, why was he revealing all this now, though he demitted office in October, 2019 as J&K Governor, when, he says, pressure was put on him to grant favours to some companies. Why didn't Malik disclose all this to public at that time?