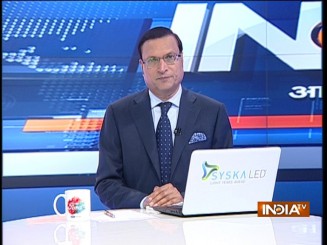 The BJP-led National Democratic Alliance scored a clear victory over opposition parties led by Congress in Rajya Sabha on Thursday, when their candidate, renowned journalist and Janata Dal(United) member Harivansh defeated Congress rival B K Hariprasad in a straight contest by a good margin (125-101).
Theoretically, non-BJP parties led by Congress were in a majority inside the House, but party chief Amit Shah turned the tables on them, first by mollifying close allies like Shiromani Akali Dal and Shiv Sena, and then pitching for vital support from Biju Janata Dal, AIADMK, Telangana Rashtra Samiti, Indian National Lok Dal and some independents.
On the other hand, from the Opposition camp, YSR Congress abstained, and members of Aam Aadmi Party and PDP were absent. Clearly the Opposition's strategy failed, because there was lack of seriousness on the part of their leaders.
Let me elaborate. The Leader of House in Rajya Sabha, Union Minister Arun Jaitley was in medical isolation at his home on the advice of AIIMS doctors for the last four months due to kidney transplant, but on Thusrday, he came to Parliament to cast his vote after taking permission from doctors.
This is a clear example of how the NDA took the election seriously, whereas those in the Opposition camp, despite being hale and hearty, were absent from voting. At least 12 of them were absent. Had they voted for the Congress candidate, the margin would have been close. Had Congress President Rahul Gandhi phoned Arvind Kejriwal, his candidate could have got all the three votes from AAP.
On the other hand, JD(U) supremo Nitish Kumar personally rang up his BJD counterpart Naveen Patnaik to seek his party's support. Rahul Gandhi could have done the same. On the whole, the NDA won because its leaders took the election seriously and there was good floor management.
Click Here to Watch Full Video | Get connected on Twitter, Instagram & Facebook