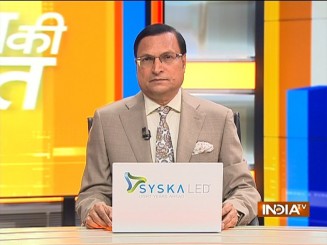 The two-day 28-member opposition alliance meet ended in Mumbai on Friday with a declaration expressing resolve to contest the forthcoming Lok Sabha elections together "as far as possible". The one-page resolution said talks on seat-sharing arrangements "will be initiated immediately and concluded at the earliest in collaborative spirit of give and take." A 14-member coordination committee has been set up to iron out any glitches in relationship and preparing joint campaign and communication strategy. The alliance is yet to appoint a convener or finalize a logo. I.N.D.I.A alliance leaders have been claiming that Prime Minister Narendra Modi has become nervous and is frightened because of opposition unity. Probably they do not know Modi closely. They do not know Modi's mettle. It is not in Modi's character to become nervous easily. For 13 years, he was chief minister of Gujarat and he faced a lot of flak and allegations. He was even dubbed as "maut ke saudagar" (merchant of death), 'murderer of Muslims' and what not. He was investigated by police, by Special Investigation Team and was also interrogated. He became the target of media attacks. The US government declined to give him a visa. He was reviled across the world. The then government at the Centre tried its best to pin him down. Top police officials, wise bureaucrats, and canny political leaders were after Modi. There were several NGO leaders like Medha Patkar and Teesta Setalvad who were after Modi. But Modi remained steadfast in the face of such vicious attacks. He fought fearlessly and won elections in Gujarat. Most of the political leaders then said Modi will never make it to become the Prime Minister, and may not win Lok Sabha elections. Modi made the opposition parties bite the dust. When the elections for his second tenure took place, the slogan "Chowkidar Chor Hai" was coined, and he was projected as friend of industrialists and enemy of farmers. But this had no effect on the general public. This time, the allegation is: dictatorship. Opposition leaders are alleging that our democracy is being weakened fast. But till now, nobody has been able to prove the allegation that Modi indeed took measures to curb democracy. Opposition leaders have been saying that if Modi wins for a third time, there may not be any free and fair elections in future. Modi has now replied that he wants to conduct Lok Sabha, assembly and panchayat elections all at one time, in order to strengthen democracy. Every government, whether at the Centre or in the states, must get full five-year time to work for progress. That is why I said that opposition parties who have gathered on a platform to defeat Modi have failed to understand Modi in the last nine years. They failed to gauge in which direction Modi is moving. They continue to harbour this misunderstanding that Modi is now frightened and he may try some other route to stay in power.
One Nation, One Election : Opposition is ambivalent
The Centre on Friday set up a six-member panel headed by former President Ram Nath Kovind to explore the possibility of "one nation, one election". The move caused ripples in the opposition bloc meeting in Mumbai. Chief Ministers Yogi Adityanath, Shivraj Singh Chouhan, M L Khattar, Himanta Biswa Sarma, Eknath Shinde and other BJP chief ministers welcomed the move and said this should be implemented at the earliest. On the other hand, Congress, Samajwadi Party, Trinamool Congress, NCP and other parties did not oppose this idea, but some of their leaders claimed that Prime Minister Modi has become frightened after the opposition has become united. They also said, BJP is fearing electoral reverses in MP, Chhattisgarh and Rajasthan. Constitutional experts say the notion of "one nation, one election" is feasible, but it is not easy to implement because the process is a long-drawn one. At least, this cannot be implemented before the 2024 Lok Sabha polls. After India became a republic in 1950, Lok Sabha and assembly elections used to be held simultaneously. The Congress ruled India uninterruptedly. The break took place after the 1967 elections, when state governments collapsed, the Congress split and new regional parties were formed. The Law Commission set up by Modi in 2015 recommended that 'one nation, one election' must be implemented. During Indira Gandhi's rule, the then Law Commission had also recommended the same in 1982-83. In 2018, the Law Commission headed by Justice B S Chauhan also recommended the same. Interestingly, Akali Dal and Samajwadi Party had then supported it. At that time, Nitish Kumar was also in favour of this idea, and Akhilesh Yadav had welcomed it. Shiv Sena (UBT) chief Uddhav Thackeray had also supported this idea. Late Parkash Singh Badal had said this was essential for a federal country like India. In 2018, only Asaduddin Owaisi, Mamata Banerjee and H D Deve Gowda had opposed this idea. Now political scenario has changed. Parties and leaders have also changed their stand. However, leaders of almost all parties understand that it would not be easy to implement this, because the Kovind Committee will take time to submit its report. At least 15 state assemblies will have to pass identical resolution, after which the Centre will bring the Constitution Amendment Bill, which requires approval by two-thirds majority. All this will surely take time. To expect that all this will happen during the special Parliament session convened from September 18 is well nigh impossible. If Modi decided on something, he might have found out routes. Opposition parties are worried because they know that even if 'one nation, one election' is not implemented soon, Modi will make it a big election issue. That is the reason why most of the opposition parties have taken an ambivalent stand.