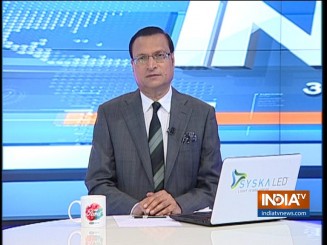 In the last three days, Indian Air Force decimated a major camp of Pakistani terror outfit Jaish-e-Mohammed deep inside their territory, and foiled attacks by PAF jets on our brigade HQ in Kashmir and forced them to flee. India exerted tremendous international pressure and forced Pakistan to release our IAF pilot Abhinandan. Indian army exposed Pakistan's lies and showed to the world how it used F-16 jets for attack against Indian military installations in clear contravention of the promise it made to the US not to use F-16 for military action against India.
The question that is now being asked is whether India should accept the peace offer from Pakistan and start dialogue. On this issue, my view is very clear. India can start dialogue only if Pakistan takes credible action against terror outfits on its soil and hands over the masterminds of 26/11, Pathankot, Uri and Pulwama attacks, Hafiz Saeed and Masood Azhar to India. Only then can both countries initiate any fruitful round of talks, otherwise it will be back to square one.
History is witness how Pakistan trained and sent terrorists to cause mayhem on Indian soil, and then always spoke about peace and offered talks. The pet dialogues are the same; only those who delivered these dialogues were different – Nawaz Sharif, Pervez Musharraf and now Imran Khan.
How can we forget the 2006 train blasts which killed hundreds of innocent people in Mumbai? How can we forget the 2013 brutal beheadings of our soldiers on Line of Control? How can we forgive those terrorists and their handlers who caused mayhem in Mumbai during the 26/11 attacks? How can we forget the terror attacks in Uri? In Pathankot? And, the latest in Pulwama where 40 CRPF jawans were killed by a maniac suicide bomber trained in Pakistan?
On every occasion, it was Pakistan which caused mayhem and bloodshed, and then offered peace. How can India trust Imran Khan's words? The same drama was enacted, over and over again. The only difference this time is that Imran Khan is now facing a leader like Narendra Modi.
I clearly remember how Modi said in 'Aap Ki Adalat' show that we should stop writing "love letters" to Pakistan, and "we should respond to Pakistan in their own language". With the surgical strike in 2017 and the spectacular air strike in Balakote this week, Modi has repaid Pakistan with the same coin.
Pakistan Prime Minister Imran Khan is now making peace overtures to Modi, first through television and then via telephone, but our Prime Minister's intention is very clear. Modi is of the firm opinion that if Pakistan fails to clear away the training camps of terrorism on its own soil, India will enter its space and eliminate the terrorists and their trainers. India will destroy terror camps inside Pakistan.
The ball is now in Imran Khan's court. Imran will have to decide: when and how Pakistan will change for the better.
Click Here to  Watch Full Video | Get connected on Twitter, Instagram & Facebook