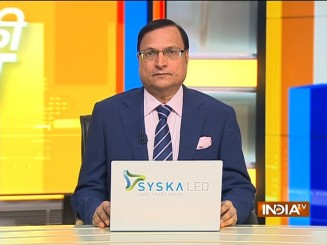 Union Minister of Road Transport and Highways Nitin Gadkari was my guest this week in 'Aap Ki Adalat' show. An articulate politician, his remarks often caused controversies in the past and he had to issue clarifications. In the show, Gadkari made some revelations. For example, 40 per cent drivers in India do not have clear vision. The minister plans to drastically change the process of issuing driving licenses. Gadkari revealed how Amit Shah was pressurized by investigation agencies during Dr Manmohan Singh's rule to implicate Narendra Modi in criminal cases. Gadkari also reminded Rahul Gandhi of how his grandmom Indira Gandhi told British media in London during Janata Party rule that she would prefer to speak about domestic issues only in India. The minister also revealed how Rs 50 lakh crore worth road construction contracts were given by his ministry, and not a single allegation of corruption surfaced. He also disclosed that he was working on a big project to solve Delhi's pollution problems and garbage from huge landfills is being used for building roads. Gadkari also revealed how he ordered that the residence of his in-laws be razed for constructing a road. You can watch the show 'Aap Ki Adalat' tonight at 10 on India TV.
MAMATA MUST ANSWER QUESTIONS ON HOWRAH VIOLENCE
After violence continued in Howrah on Friday, Home Minister Amit Shah spoke to West Bengal Governor C.V. Ananda Bose and sought detailed information about the riots that took place during Ramnavami procession. Till now, 36 persons have been arrested. Visuals on Friday clearly showed the local police on the defensive even as rioters continued pelting stones. These visuals are clear proof of incompetence on part of local police and administration. Chief Minister Mamata Banerjee, instead of levelling allegations, should reply why police did not take strict action against stone pelters and arsonists. The riots took place at the same spot in Howrah, where similar violence took place last year, but this time no security precautions were taken. Mamata Banerjee must answer if her police intelligence had reports about a conspiracy being hatched, why was preventive action not taken? If those in the procession were carrying swords and pistols, why didn't police take them into custody? The violence took place at the very spot on Friday, where riots had taken place a day before. It is clear proof of the incompetence of police. The visuals clearly show the faces of stone pelters, but policemen were silent spectators. There are many such questions. It's true that BJP is politicizing the issue, but the question is, who allowed BJP to make it an issue? Were the comments made by Mamata's nephew Abhishek Banerjee and other Trinamool leaders not political? BJP may gain some Hindu votes and TMC may gain some Muslim votes because of this violence, but both BJP and Mamata Banerjee must think of the damage inflicted on Bengal's cosmopolitan culture and image.
KEJRIWAL SLAPPED WITH FINE BY GUJARAT HIGH COURT
Gujarat High Court on Friday imposed a fine of Rs 25,000 "for making a mockery of the very intent and purpose of RTI Act". He was asked to deposit the fine within four weeks. The High Court quashed a seven-year-old order of Central Information Commission directing Gujarat University to provide information sought by Kejriwal on PM Narendra Modi's MA degree under RTI Act. Nothing can be more shameful than a High Court imposing Rs 25,000 fine on a sitting chief minister saying he was wasting the valuable time of the court. The High Court interestingly told Kejriwal that he knew that Modi had a post-graduate degree, and it could be easily accessed on the university website, and yet he sought to create an impression that the university was unwilling to furnish the degree certificate. The most objectionable part is that even after the High Court imposed fine on him, Kejriwal went on social media to say that he was fined because he wanted to see the degree. How can one justify a CM describing a Prime Minister, having BA and MA degrees, as illiterate? Kejriwal lost badly when he contested against Modi in Varanasi in 2014. In his affidavit, Modi had mentioned about his degrees, and Gujarat University had posted Modi's MA degree in 2016 on its website. Kejriwal knew that the copy of Modi's degree was available both in Modi's affidavit filed before Election Commission and on Gujarat University website. And yet, Kejriwal is describing Modi as less educated. Clearly this is a move to deliberately create a wrong impression, and a mountain was sought to be made out of a molehill.