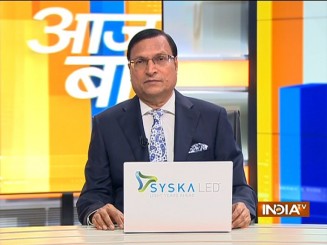 Prime Minister Narendra Modi will inaugurate the new high-tech Parliament building on May 28 in the presence of Lok Sabha Speaker Om Birla. However, Congress, Trinamool Congress, Rashtriya Janata Dal and some other opposition parties have demanded that the President should inaugurate the new building. Congress President Mallikarjun Kharge, in a series of tweets, said, "The president of India Smt. Droupadi Murmu is not being invited for the inauguration of the new Parliament Building. The Parliament of India is the supreme legislative body of the Republic of India, and the President is its highest Constitutional authority. She alone represents government, opposition, and every citizen alike. She is the First Citizen of India. …The Office of the President of India is reduced to tokenism under the BJP-RSS government." In response, BJP supporters released a video which showed the then Prime Minister Rajiv Gandhi laying the foundation stone of Parliament Library building. Congress leaders have also raised question on why the new building is being inaugurated on Veer Savarkar Jayanti, which falls on May 28. I feel, it does not matter who inaugurates the new Parliament building. The difference that should matter is, whether proceedings in the new Parliament will go on smoothly. The difference that should matter is, whether the new Parliament building will be allowed to become a forum for debate on issues of public importance. The difference that should matter is, whether a new Parliament building is at all required. I remember, when Meira Kumar was the Lok Sabha Speaker, it was Congress leader Jairam Ramesh who had supported that a new Parliament building should be built. Those who have visited the present Parliament building know the problems that are being faced. There is acute shortage of space, there is no space for employees to sit, political parties are busy in tug-o-war to get spaces for their offices, the building has an old sound system, during monsoon, there is water seepage, sometimes air-conditioners do not work, there are deep cracks visible in the walls and ceiling. Secondly, the space for MPs has now become smaller. The present building has sitting space for only 543 Lok Sabha MPs. In 2026, when there will be delimitation of Lok Sabha seats, the number may cross 800. The present building will not be able to provide sitting space for so many MPs. Therefore, a new Parliament building was considered necessary. This should have happened much earlier. It goes to the credit of Prime Minister Narendra Modi, that the building was completed within a record time of 30 months. One must understand, it is not Modi alone, who will sit in the new building. It will provide space to ministers, leaders of parliamentary parties and all staff working for Lok Sabha and Rajya Sabha Secretariats. The parliament of the world's biggest and liveliest democracy should also be a magnificent one. I, therefore, feel, all political parties should welcome the inauguration of the new parliament building.
OPPOSITION UNITY: STONEWALL FROM CONGRESS
Bihar chief minister Nitish Kumar met Congress president Mallikarjun Kharge and Rahul Gandhi in Delhi on Monday as part of his efforts to forge opposition unity. On Sunday, he had met Delhi CM Arvind Kejriwal. The AAP supremo, in turn, is going to Kolkata and Mumbai to seek support from Mamata Banerjee, Uddhav Thackeray and Sharad Pawar in his fight against the Centre against the recently promulgated Delhi-related ordinance. Nitish Kumar told the Congress leaders the importance of opposition unity before next year's Lok Sabha elections. He is pressing for early formation of an anti-Modi front, and wants to hold its first meeting in Patna. Congress leaders do not seem to be in a hurry. They are insisting that the parties should first decide on a seat allocation formula, state-wise. Nitish Kumar has been toiling hard since last three months to forge a united opposition front. He has already met Sharad Pawar and Uddhav Thackeray. The main point is: if Congress does not join the front, all efforts will go waste. It is not difficult to understand the problems of Congress. The grand old party wants to project Rahul Gandhi as prime minister, and to achieve that objective, the party has to contest more than 300 LS seats. But Mamata Banerjee has already said, if Congress wants to fight the LS polls jointly with other parties, it must not expect more than 210 seats. Mamata Banerjee, Akhilesh Yadav and Nitish Kumar are ready to give more seats to Congress only in those states where the Congress is in a direct fight against BJP. These ten states are: Gujarat, Karnataka, Rajasthan, Madhya Pradesh, Chhattisgarh, Assam, Haryana, Himachal Pradesh, Uttarakhand and Goa. These ten states account for a total of only 144 seats. As of today, Congress has only seven and BJP has 132 seats from these ten states. Naturally, Congress will seek more seats from those states, where regional parties are dominant. The question is: why should Mamata Banerjee give more seats to Congress in West Bengal? Why should Akhilesh Yadav leave more seats for Congress in UP? How many seats will Lalu Prasad Yadav give to Congress in Bihar? How many seats will Hemant Soren accommodate for Congress in Jharkhand? This is the main reason why Congress is insisting on finalizing a seat allocation formula first. But, Nitish Kumar is saying, let us all first agree to fight together, seat allocation will be decided later. That is where the ball has stopped rolling. Congress is right now in Cloud Nine, after its clear victory in Karnataka, where it defeated the BJP.
MAULANA MADANI: BAN BAJRANG DAL
The president of Jamiat-Ulama-e-Hind Maulana Arshad Madani has stoked a controversy by saying that since Muslim voters voted en bloc for Congress in Karnataka, the party should now ban the Bajrang Dal, as promised in its election manifesto. At a meeting in Mumbai, the Maulana said, had the Congress taken this step 70 years ago, the party would not have been languishing in the opposition today. He described the proscribed outfit PFI as the "Muslim reaction" to the emergence of Bajrang Dal. BJP leader Giriraj Singh, in a left-handed compliment, said, "the Maulana is right. The mistake was done 70 years ago. Had our forefathers not made the mistake during Partition, people like Madani would not have been living in Pakistan. Those chanting the slogan 'Gazwa-e-Hind' are the result of mistakes committed 70 years ago, which the present generation is facing", he said. The Maulana's nephew Maulana Hasan Madani went to the extent of saying, those who are demanding Hindu Rashtra are "traitors". At the opposite end, the chief of Bageshwar Dham, Dhirendra Krishna Shastri, who was in Sagar, MP, again gave the call for Hindu Rashtra, and said, "if we can't achieve this peacefully, we are ready to launch a revolution in the name of Lord Ram". Dhirendra Krishna Shastri is a young, Hindu religious preacher. Lakhs of devotees turn out to watch him speak. Naturally, young people chant 'Hindu Rashtra' slogan out of passion. Most of his devotees clap when he speaks of Hindu Rashtra. His point of view can be opposed but to say that "the mother of a jackal cannot give birth to a lion", and that "lions do not fear pack of wolves", is highly unjustified. As far as Maulana Arshad Madani is concerned, he is 82 years old and commands respect among Muslims. People listen to what he speaks and most of them also agree with him. The Maulana should therefore be careful about what he is saying. He is saying, if Congress had banned Bajrang Dal 70 years ago, it would not have been in the opposition today. Bajrang Dal was not formed 70 years ago. At that time, it was the RSS. Congress has seen the consequences of banning RSS. After Ram Janmabhoomi movement, Bajrang Dal was banned and Congress has seen the consequences. So, if Madani expects that Congress will ban Bajrang Dal, it cannot happen. Madani should be surprised to find that even Congress is now walking on the path of Hindutva now. On Monday, 'pooja' was performed inside Karnataka assembly premises, and Ganga Jal and Gomutra were sprinkled as a mark of "purification".