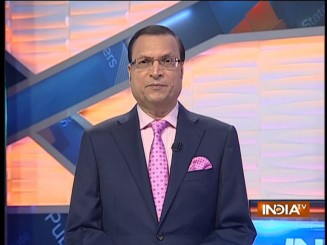 On Dussehra evening, Punjab minister Navjot Singh Sidhu's wife Dr Navjot Kaur addressed a crowd at a Ravana effigy burning event in Amritsar. As the effigies were being burnt, a train crossed the railway tracks crushing more than 61 people to death in a gruesome tragedy. Seeing the melee, she immediately left the venue in her car.
As more and more injured people were brought to hospital, she appeared on TV to say that she came to know about the accident 15 minutes after she left the spot. That was a plain white lie. The videos from the accident spot clearly nail her lie.
Nobody would have blamed Dr Navjot Kaur had she not uttered this lie. First, she reached the venue late, gave her speech, and as soon as the accident took place, she just vanished. Dr Navjot Kaur was told at the venue that many people had been run over by a train, and yet she left the spot.
Nobody is saying that Navjot Kaur's action to leave the spot was deliberate. Mistakes sometimes do occur. It would have been better if she had admitted her mistake. But in order to hide one lie, more and more lies are being spouted not only by her, but by her husband Punjab minister Navjot Singh Sidhu. The former cricketer is now shifting the blame on Railways to hide his wife's mistake.
Click Here to Watch Full Video | Get connected on Twitter, Instagram & Facebook