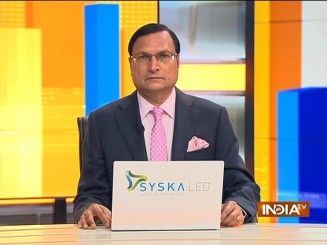 The onslaught of heavy rains, landslides and floods in northern India has taken a heavy toll of lives and properties with vast areas inundated both in the hills and plains. The worst-hit is Himachal Pradesh, where army and NDRF are engaged in rescue and relief work. Uttarakhand, Punjab, Haryana, Gujarat, UP, Delhi and Rajasthan are facing devastation with rivers like Beas, Sutlej, Ghaghar, Yamuna and Ganga in spate. Thousands of people living near Yamuna banks in Delhi have been moved as the river crossed the danger mark. Highways, vast areas of agricultural land, residential localities in cities have faced the wrath of nature's fury caused by the combined might of the monsoon and western disturbance. The question is, why this sudden and heavy downpour, which has broken 40 to 70 year old records? I find two main reasons. One: climate change, and Two: unplanned urban development. Scientists have been warning since the last ten years, sending red signals, and appealing to countries to join hands to prevent global warming. Most of their appeals have fallen on deaf years, on the ground. Scientists had warned that too much global warming can also cause heavy rains and cloudbursts. They say, one per cent rise in global temperature can lead to at least seven per cent of our oceans released vapour into the atmosphere, resulting in heavy precipitation and rains. A two to three per cent rise in ocean temperature can lead to 15 to 20 per cent more water evaporation, resulting in huge clouds forming in the atmosphere. Naturally, these clouds will surely cause heavy downpour. The hills are the worse affected because there are strong winds blowing in hilly areas. When strong winds hit the hills, there are bound to be cloudbursts. The foothills of Himalayas and Western Ghat have been witnessing heavy rains in recent weeks. Himachal Pradesh and Uttarakhand are facing the brunt of cloudbursts, floods and landslides. A similar situation exists in Assam and other northeastern states. Scientists warn that this danger may increase in coming years leading to more cloudbursts, floods and landslides. The danger is due to rise in carbon dioxide and methane gas emission caused by climate change. Present estimates predict that South Asia, by 2050, will face heat wave 14 times more than it is occurring presently. Just imagine: If heat level increases 14 times, floods will occur at least two and a half to three times more. Cyclones in the near future will be four to five times stronger compared to the present cyclones. The danger is big and serious. Only governments cannot save us from this danger. We must all realize the danger and contribute our mite towards preventing global warming. There is no way out. Rampant deforestation is going on, we waste huge amounts of water, there is widespread use of plastic, and concrete jungles are being erected in cities and hilly areas to house people. All these developments point towards the bigger danger. If we want to save ourselves, we must exercise caution.
VIOLENCE : NOT GOOD FOR BENGAL'S IMAGE
As counting continued in West Bengal for panchayat elections on Tuesday, with ruling Trinamool Congress taking the lead, and BJP following at No. 2 position, questions have been raised by almost all opposition parties in the state over the manner in which the polls were conducted. BJP chief J P Nadda has sent his fact-finding committee, while state Congress chief Adhir Ranjan Chowdhury has knocked the doors of Calcutta High Court, which has directed the Border Security Force IG to file a ground report on force deployment on the day of polling when there was widespread violence. West Bengal governor C V Ananda Bose met Home Minister Amit Shah in Delhi and made a cryptic comment while quoting English poet Shelley, 'the darkest hour is just before dawn'. A total of 41 people lost their lives in Bengal panchayat elections, with hundreds of BJP supporters fleeing the state and taking refuge in neighbouring Assam. It is not that only BJP supporters were killed in violence. Supporters of Trinamool Congress, Congress and Left parties were also killed. All the parties except TMC are demanding inquiry. Adhir Ranjan Chowdhury demanded compensation for those killed and a judicial inquiry into violence by a sitting judge of High Court. He alleged that the state government knew violence will take place, but no preventive steps were taken. Questions have been raised on why central paramilitary forces were not deployed at polling stations in time. After several years, TV viewers in India watched polling booths being plundered, ballot boxes being thrown into a pond, ballot papers being torn, and booth capturing taking place. The State Election Commission's role is being questioned. I think, whether it is panchayat election, or urban local bodies or assembly or Lok Sabha elections, every time we get reports of murders, firing and bomb blasts from West Bengal. This is not good for democracy, nor is it good for West Bengal's image. Mamata Banerjee must ponder. She came to power after fighting decades of Left Front rule. She became chief minister after promising the people to free them from the scourge of violence. At least, she must remember the promises that she made to the people of Bengal.