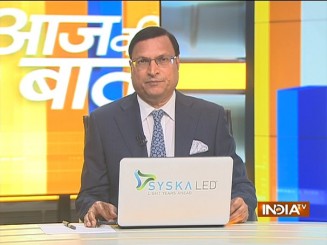 In a nationwide swoop on early Thursday morning, National Investigation Agency (NIA), in close coordination with Enforcement Directorate (ED) and state police raided 202 locations in 15 states and arrested more than a hundred leaders and activists of People's Front of India(PFI), a radical Muslim outfit and its sister organisation SDPI.
Raids were carried out on Thursday in Delhi, Mumbai, Navi Mumbai, Thane, Jaipur, Udaipur, Baran, Bahraich, Kanpur, Lucknow, Aurangabad, Pune, Kolhapur, Beed, Parbhani, Nanded, Jalgaon, Jalna, Malegaon, Dakshin Kannda, Mangaluru, Ullal, Koppal, Davangere, Shivmogga, Mysuru, Bengaluru, Mallapuram, Thiruvananthapuram, Ernakulam, Chennai and Madurai.
Among those arrested include the PFI chairman O. M. Abdul Salam, its vice-chairman E. M. Abdul Rahiman, national secretary V.P Nazarudheen Ellamaram, Kerala state chief C P Mohammad Basheer, Prof. P. Koya and SDPU president E. Abubacker. A state-wide dawn-to-dusk 'Kerala bandh' call was given on Friday by PFI, despite a Kerala High Court banning strikes.
On Friday, several incidents of vandalism and violence were reported from across Kerala. Stones were pelted at Kerala State Road Transport Corporation buses, trucks and other private vehicles in several cities by bandh supporters. Hundreds of protesters were taken into preventive custody by police.
National Investigation Agency, in its remand applications before courts, has alleged that PFI was indulging in anti-national and terror activities and was brainwashing Muslim youths to join terror outfits like Al Qaeda, Lashkar-e-Taiba, Islamic State and others. In its remand applications, NIA has alleged that PFI leaders were spreading hatred against non-Muslims through public debates and rallies, and were misusing social media platforms for passing on not only hate messages but also confidential information about PFI activities. Several mobile phones and computer devices have been seized from the offices and homes of PFI leaders.
According to a dossier on PFI prepared by NIA, the radical outfit was aiming to enforce Taliban brand of Islam in India through a multi-pronged strategy. It was propagating orthodox Islamism through its cadre and institutions like Sathyasarini Markazul Hidaya Educational and Charitable Trust based in Majeri, Malappuram district of Kerala.
More than 300 officers were involved in the nationwide swoop against PFI leaders and activists. NIA officers alone searched 93 locations and arrested 45 PFI leaders. NIA officials said that the raids were carried out after detailed preparations and meticulous homework.
Codenamed 'Operation Midnight', the nationwide swoop began at 1 am and before dawn, the operation was over by 5 am. A command centre was set up in the Home Ministry, with zonal command centres active in six different zones across India. National Security Adviser Ajit Doval was overseeing the operation, and was giving regular updates to Home Minister Amit Shah.
The operation was kept highly confidential. An Additional DG-level official, assisted by 4 IG-level officers and 16 SPs were entrusted with executing the operation. Several state anti-terror squads were also involved in the operation. For ensuring law and order, more than 5,000 policemen were deployed in the states.
The highest number of arrests of PFI leaders was made in Kerala, where 22 leaders were nabbed. 20 PFI leaders each from Karnataka and Maharashtra were also arrested. 10 were arrested from Tamil Nadu, eight from UP and nine from Assam. Several important documents, weapons and electronic devices were seized.
The entire operation was shrouded in secrecy and there were no leaks about the raids. Yet, NIA and local police officers were surprised to find immediate protests by hundreds of PFI supporters, even as the leaders were being taken in vehicles under custody. It goes to show the strong network and communication system of the radical outfit. In faraway places like Dindigul in Tamil Nadu, Mallapuram in Kerala, Kalburgi in Karnataka and Nashik in Maharashtra, hundreds of PFI supporters came out to protest these arrests.
The PFI, which was set up in 2006, is now active in 16 states, where it has recruited cadre from small towns. NIA had prepared a detailed dossier that included the addresses of each office and PFI leader. It had also traced the sources of funding from PFI and the points where these funds were being spent.
NIA had anticipated protests over the arrests, and expectedly there were protests in Mangaluru, Kalburgi and Bengaluru of Karnataka, and in different cities of Kerala. NIA also found that PFI leaders were focusing on recruiting only educated Muslim youths in order to brainwash them. In spite of staying away from modern hi-fi technology, its communication network was very strong.
The NIA dossier also mentions how PFI became active in North Indian states after the Citizenship Amendment Act was enacted. PFI became active in UP, MP and Rajasthan, and in Delhi, the Shaheen Bagh protests following by Delhi riots noticed a large footprint of PFI. The communal riots in June this year in Kanpur, and the violent protests over Nupur Sharma's remark against Prophet Mohammed, were meticulously planned by PFI leaders.
There were protests by PFI supporters in Lucknow and Kanpur on Thursday. In Rajasthan, there have been several incidents of communal violence in the last one year. A Hindu procession was attacked in Karauli, a riot-like situation took place in Jodhpur and in Udaipur, a Hindu tailor Kanhaiyalal was beheaded. PFI connections were found in all these incidents. NIA raided PFI locations in Udaipur, Jaipur, Jodhpur, Baran and Kota, and rounded up PFI leaders. Soon after, protests took place in Kora, Baran and Jaipur.
NIA officials believe that PFI's ideology is similar to that of SIMI and Indian Mujahideen, both radical outfits, which do not exist any more. But PFI's work style is different from that of SIMI and Indian Mujahideen. PFI's strategy appears to be to brainwash educated Muslim youths who can master technology and know about law, and with getting entangled in court cases, work for bringing "Islamic governance" in India.
I asked senior officials why PFI is not being banned. The investigating officers pointed out that the ban on SIMI in the past had no effect, and, in place of SIMI, PFI came up. PFI is registered as a social organisation, but SDPI is its political wing. Campus Front of India is the students' wing of PFI. All these organisations are registered separately. PFI has also set up All India Imam Council for maulanas and moulvis. For converting non-Muslims to Islam, it has opened Sathya Sarini Educational and Charitable Trust in Kerala. For women, it has set up National Women's Front. Similarly Empowerment Front of India, Rehab India Foundation, National Confederation of Human Rights and All India Lawyers Council have also been registered by PFI leadership.
The senior officers told me, since there is a plethora of organisations, it would not be wise to ban all these frontal outfits. More stress is, therefore, being laid on preventing the activities of these outfits from spreading its tentacles. Security agencies say, there are two ways of preventing anti-national activities. One, to put most of the active members behind bars, and Two, to stop the sources of funding.
While investigating, the security officials were surprised to find that PFI was getting huge amount of money from foreign sources through different channels. PFI leaders frequently visit Gulf countries like UAE, Saudi Arabia, Qatar, Kuwait and Iraq. They have also visited Turkey. They get donations from all these countries.
ED officials have found evidences of more than Rs 60 crore deposited in PFI bank accounts, out of which, it was found, nearly Rs 30 crore was deposited in cash. Last month, ED had put a freeze on 22 PFI bank accounts. Old timers in security establishment say, it is not easy to collect evidences to nail PFI leaders, because the leadership of this outfit trains its supporters and cadre on how to remove all evidences before carrying out any act.
The reactions on PFI raids were mostly superficial from mainstream political parties. Most of the parties look at PFI from the angle of their own political advantage. It was left to Home Minister Amit Shah who realized the enormity of this challenge and took a concerted action.
PFI is a strong and highly politicised organisation, which specializes in misusing digital network of the new era. It does not lack funds. When SIMI was banned, most of its leaders who went underground, resurfaced and formed PFI. The new outfit started to recruit educated youths and trained them in use of weapons and digital dominance, apart from spreading hate on social media.
PFI's hand was behind the brutal murders of several CPI(M) and RSS workers in Kerala. In 2012, Kerala government, in an affidavit given in the High Court had alleged that PFI had a hand in at least 27 political murders. In the affidavit, the state government alleged that till 2012, PFI connection was found in at least 106 communal incidents. In 2015, 13 PFI workers were convicted and given life term imprisonment. PFI activists had dismembered the hand of a professor in Kerala for making a blasphemous remark about Prophet Mohammed.
PFI has set a deadline of 2047 for making India an Islamic country. In its Vision 2047 document, PFI has detailed steps and measures to achieve this aim. These include how to infiltrate its cadre in government jobs, in the armed forces, and in different levels of government. The nationwide swoop on PFI leaders is a timely move to put an end to anti-national forces who are engaged in subversion and want to weaken India.