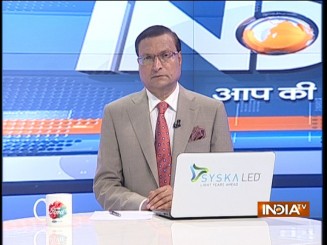 I would first like to thank Almighty that not a single person died in the sudden foot overbridge collapse at Andheri station in Mumbay on Tuesday. Due to heavy rains, there were only a few people on the overbridge. Last year, the stampede on Elphinstone bridge caused the death of 23 persons.
At that time, Railway Minister Piyush Goyal had taken swift action, and a new overbridge was installed with the help of the army. Goyal had then promised that more attention would be paid towards passengers' safety.
The question is not of safety alone. There are many such bridges which have become old and rickety. Most of them were built during the British period, and have outlived their tenure and utility. These bridges have already been declared dangerous.
Now that the Railway Minister has ordered an audit of 450 such bridges, to be carried out under the supervision of an IIT Director, one should hope that the replacement and/or repair of these bridges will be taken up on a war footing.
I would also like to praise the steadfastness of Mumbaikars, who carried on with their daily work, despite heavy rains. Mumbai is truly called The City That Never Sleeps in India. It is a tragic irony that the duty conscious and brave Mumbaikars have to face mishaps during rains every year. Last year, a renowned doctor was washed away in rainwater when he fell into an open manhole. There have been mishaps when live wire fell in water causing electrocution. And yet the pace of life in this metro never slackened.