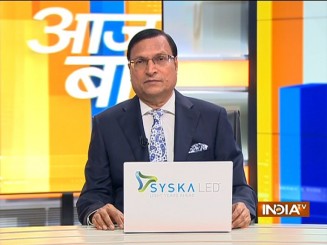 On a day when US President Joe Biden called Chinese President Xi Jinping "a dictator", Prime Minister Narendra Modi landed in New York on his first state visit to USA. In New York, Modi met US businessmen including Tesla Inc owner Elon Musk and Bridgewater Hedge Fund co-founder Ray Dalio, noted American economist Paul Romer and other thought leaders and discussed India's growth story with them. Elon Musk said, Tesla, the world's largest electric car producer, is looking to make significant investment in India. Musk described himself "a fan" of Modi, and said the Indian prime minister "really cares about India because he is pursuing us to make a significant investment in India". Modi told economist Prof Paul Romer about India's digital journey, including use of Aadhar and innovative tools like Digilocker. He also invited Dalio to make further investments in India. After leading International Day of Yoga celebrations at UN headquarters, Modi will reach Washington. India and the US are old friends, and in today's age, both need each other more. American needs India's burgeoning market and India needs American capital and technology. Many top US manufacturing companies are now leaving China and are in search of other countries to set up production plants, and India has to grab this opportunity. With the entry of more US investments, India's economic muscle will become stronger. A few years ago, China was India's largest trade partner, but after relations became tense due to armed Chinese transgressions on Line of Actual Control, bilateral friendship has taken a nosedive. Now India-US trade has become almost double that of India-China trade. This is a profitable opportunity for the US, and should cause worries for China. Nearly 50 per cent Indians are still connected with agriculture and manufacturing is only 15 pc of India's GDP. India, therefore, needs US capital and investment in manufacturing sector to give it a boost. One more point to note: both the Republicans and Democrats in the US consider India a strategic partner. It is in this context that Modi will join the ranks of Winston Churchill and Nelson Mandela among world leaders who have addressed the US Congress twice. America never bestows this honour on any world leader without reason. After the Covid pandemic, the USA too needs a big boost in economic growth. It must strengthen its economy vis-à-vis China. India has a population of 140 crore. Many US companies depend on India. Indian-Americans, too, play a key role in US politics. The US will go for Presidential elections next year. CEOs of several top American companies today are of Indian origin. They have their own spheres of influence. Nearly 5 million people of Indian origin live in the US. Many of them play a vital role in American politics. Both the Democrats and Republic politicians in the US realize the strength of Indian Americans. On Tuesday, former Chinese Foreign Minister Wang Yi in an opinion piece in the state-run 'The Global Times' wrote: US is "pushing India and ramping up its efforts to harass China's economic progress". Yet, even China knows that India has strengthened its relations with the US on its own conditions, and it never compromised its foreign policy to get US support. The latest example is that of India's position in the Russia-Ukraine war. The entire world saw India did not come under US pressure for applying sanctions against Russia. This was because of Narendra Modi's strong political will and courageous diplomacy. The coming 72 hours will be Modi's hours in the US. It is a moment of pride for India.
YOGA IS NOT UN-ISLAMIC
Samajwadi Party MP Shafiqur Rahman Barq has this habit of wading into controversies. On Tuesday, Barq opposed the UP government's circular for organizing Yoga Day celebrations in all schools including madarsas. Barq said, "what is the need for doing Yoga exercises in madarsas and dargahs? Instead of Yoga Day, we should celebrate 'Taaleem Day' (Education Day). The state government wants to create problems in madarsas". Leaders like Shafiqur Rahman Barq may oppose holding Yoga exercises in madarsas, but for his knowledge, I would like to tell him that Yoga Day is being celebrated in nearly 180 countries of the world, out of which there are more than 40 Islamic countries. Last month, thousands of people from more than 100 countries assembled in a park in Dubai, UAE, and created a world record for performing Yoga. A university in Saudi Arabia has already started Yoga classes. Opposing Yoga is meaningless, and it needs no reiteration.
YOGI GOVT SEIZES, DEMOLISHES PROPERTIES OF GANGSTERS
Gorakhpur Development Authority on Tuesday used bulldozers to demolish the residence of a gangster Rakesh Yadav. His house was built illegally and was worth Rs 4.5 crore. A history-sheeter, there are 52 cases against him, including those of murder, extortion and illegal land grabbing. He is one of the top 10 mafias in Gorakhpur. Presently, he is in Gorakhpur district jail. On Tuesday, Yogi Adityanath's government seized several properties belonging to absconding mining trader Haji Iqbal in Saharanpur, Noida and Lucknow. He is a former MLC of Bahujan Samaj Party and has 47 cases including those related to illegal mining and land grab. A Rs 1 lakh reward has been declared for information leading to his arrest. In Saharanpur alone, Haji Iqbal owns more than Rs 500 crore worth properties, which have now been seized. UP chief minister Yogi Adityanath has taken strong action against all top gangsters. Most of the criminals now fear police action. Law and order in UP cannot be brought under control without taking stringent action against gangsters. It was a difficult task for Yogi to remove fear from the minds of commoners. Even Yogi's political rivals now admit in private that the administration has done a good job. Other state governments are also following Yogi's path.