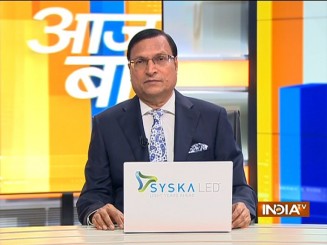 Prime Minister Narendra Modi on Monday asked CBI officers not to spare anyone in the battle against corruption, whosoever he may be. "Some of the accused are powerful people and they target investigating agencies to distract them from their work. Please focus on your work. The nation, the law, the government is with you", Modi said at the diamond jubilee celebration of CBI. Normally Modi makes such remarks at public meetings, but this was the first time he was saying this at a gathering of CBI officers. Modi remarked, how economic fugitives siphoned away Rs 22,000 crore from banks, but Rs 20,000 crore was recovered from their seized properties. What Modi said is significant. Giving a free hand to CBI is not a small matter. Only a politician who does not have a black spot on his career, and who has a strong political will, can give the agencies a free hand. He also asked CBI officers to update themselves fast with latest technology. There is no doubt CBI is doing good work, but its conviction rate is still low. Taking action against the corrupt is one thing, but ensuring their conviction is a different matter. The government has seized properties of economic fugitives like Nirav Modi and Mehul Choksi, but it is also a fact that CBI has, till now, failed in getting them extradited to India. The government can face political disadvantage because of this.
RAHUL IN COURT
With his sister Priyanka Gandhi and three Congress chief ministers, Bhupesh Baghel, Ashok Gehlot and Sukhvinder Singh Sukhu, in tow, Congress leader Rahul Gandhi appeared before the Additional Sesions Judge Robin Mogera in Surat on Monday. The court extended his bail, and posted his appeal challenging his March 23 conviction order for hearing on April 13. Rahul arrived at the court with a busload of Congress leaders. Law Minister Kiren Rijiju described this as "a drama" and "a childish attempt to pressure the court". The court order is not a relief, but is bound to create worries in Rahul's camp. Normally, people who are convicted for less than three years jail, get immediate bail, and for Rahul getting bail was a foregone conclusion. Congress leaders wanted the sessions court to stay the conviction verdict given by the Chief Judicial Magistrate of Surat. Had the conviction been stayed, the path to restore Rahul's Lok Sabha membership could have opened up, but the court did not accept the plea. It fixed April 13 for hearing. It means, for the time being, there is no chance of Rahul's LS membership being restored. If the conviction is not stayed even after the April 13 hearing, and the matter drags in court, Rahul will neither be able to contest byelections from Wyanad, nor next year's Lok Sabha polls. Congress strategists want a quick judgement from sessions court, so that they can explore other legal options. Congress leaders want a quick end to this matter, but judging from Rahul Gandhi's mood, it seems as if he wants to prolong the matter, in order to project that he is alone in his fight against Modi, and is not afraid of him. He wants to project that he is the only leader who can give a fight to Modi. Rahul's tweet soon after the sessions court ruling reflected his mood. The tweet was: "This is a fight against 'Mitrakaal'(age of cronyism) to save democracy. In this struggle, truth is my weapon, truth is my refuge".
VIOLENCE IN BENGAL
Train services on Howrah-Bardhaman line in West Bengal were suspended for four hours from Monday night till Tuesday morning after fresh incidents of stone pelting took place at Rishra railway station near Hooghly. Sec 144 was clamped in Hooghly and Serampore in Hooghly district due to prevailing tension. Governor C V Ananda Bose cut short his presence at G20 event in Darjeeling, and rushed to violence-hit areas of Rishra. Fresh violence took place in Rishra on Monday evening, as rioters broke the rail gate, hurled crude bombs and brick batted ltrains. BJP leaders. led by state president Sukanta Majumdar, were prevented from visiting riot-affected areas. Suvendu Adhikari, after meeting injured BJP MLA Biman Ghosh in hospital, alleged that rioters are roaming free in Rishra and Howrah. Chief Minister Mamata Banerjee alleged that BJP and its allied outfits deliberately changed the procession route that led to violence. The videos from Howrah that have emerged clearly show that on Day 1(Ramnavami Day), stones were pelted at the procession and vehicles were set on fire. On Day 2(Friday), those who were returning from Friday namaaz prayers, stoned residential society in presence of police. There are scores of such videos, but police have arrested 31 Hindus and only seven Muslims. These videos and facts are bound to create anger in the minds of Hindus in Bengal. Will these facts not create mistrust in the minds of Hindus towards police and administration? The motive of the Trinamool government appears to be doubtful. Had Mamata Banerjee's government acted impartially, the rioters would not have gone scot-free, nor the BJP would have got a chance to politicize the issue.
VIOLENCE IN BIHAR
The situation in some parts of Bihar is also tense. Though the situation is under control in Nalanda, there was a blast on Monday morning in Sasaram. Bihar Police chief visited riot-hit Biharsharif and had meeting with top officials on Monday night. The DM of Nalanda has warned that properties of rioters will be attached if they do not surrender. Nine companies of para-military forces are now camping in Biharsharif. Videos of rioters setting fire to a residential complex in Biharsharif on March 31 have surfaced. More than 130 people have been arrested in Biharsharif alone. On Tuesday, AIMIM chief Asaduddin Owaisi slammed chief minister Nitish Kumar for attending an Iftaar party on Monday. Owaisi said, the Madrasa Azizia in Biharsharif was set on fire and thousands of books and several shops were burnt by rioters. Nalanda is Nitish Kumar's home district, and yet the chief minister did not visit. Instead, he found time to attend an iftar party. Naturally, BJP leaders are alleging that the chief minister is following a policy of Muslim appeasement. As Chief Minister, it was Nitish Kumar's responsibility to meet the riot victims and offer them sympathy, instead of attending an iftar party. Had he done that, he could have enhanced his stature and earned the trust of the people of Bihar.