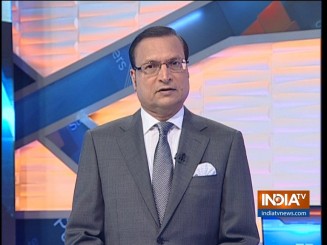 As the entire nation paid respects to the CRPF jawans martyred in the cowardly suicide attack in Pulwama, Kashmir, it is gratifying to note that the whole nation, irrespective of ideology, region or religion, is one on the need to teach our neighbouring country a lesson that will be remembered for generations.
At the Palam Air Station on Friday evening, with Congress President Rahul Gandhi, the three Armed Services chiefs, and senior ministers watching, Prime Minister Narendra Modi laid wreath on the mortal remains of martyrs, and then silently walked around the coffins with folded hands, his face grim with grief and determination. Hours earlier, the Prime Minister had remarked that "the blood of every Indian is boiling".
Clearly, the people of India want a swift and precise retaliation, and they have full faith in the determination of our Prime Minister. I have heard many Prime Ministers in similar situations in the past, but Prime Minister Modi, with his balanced choice of words has endeared himself to many. Pakistan needs to be taught a lesson and the Army has been given a free hand. The Prime Minister clearly said that Pakistan has committed a grave mistake and it must bear the consequences.
Modi's words has brought a sense of relief in the minds of Indians, but the real challenge remains. Millions of Indians will get a true sense of relief only when the retaliation against the perpetrators of Pulwama massacre is carried out in a precise manner. India has the right to self-defence, and it must teach a lesson to Pakistan on its own soil, whatever may be the fallout.
India had been and is a peace loving country, but a country seeking peace does not mean that it must cower in the face of heinous attacks. India follows the ideals of Mahatma Gandhi, but it also worships Netaji Subhas Chandra Bose, Bhagat Singh and Chandrashekhar Azad, who hit out at the nation's enemies without fear. India follows the teachings of Gautam Buddha, and yet it honours its brave heroes like Chhatrapati Shivaji and Maharana Pratap, who hit out at their tormentors with valour. The Pakistani leadership did not chose to understand our message of peace, and India has no option but to follow the footsteps of its brave national warriors.
The most satisfying part is that Prime Minister Modi understands the pulse of 130 crore Indians. All the political parties are united in this hour of national grief. Pakistan has committed a big blunder, and the call of the poet Chand Bardai rings in our ears. Chand Bardai in a famous couplet had guided the blinded and imprisoned king Prithviraj Chauhan of Delhi, how to shoot precisely to kill Sultan Muhammad Ghori sitting on his resplendent throne.
Click Here to  Watch Full Video | Get connected on Twitter, Instagram & Facebook