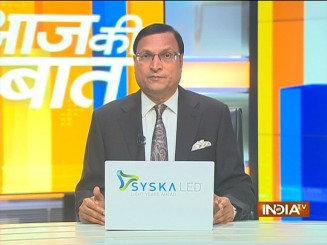 Prime Minister Narendra Modi on Tuesday set the agenda for next year's general elections. Point 1 – he pitched for a uniform civil code, Point 2 – he promised to continue his drive against corruption and dynastic politics. This was the first time Modi spoke bluntly about uniform civil code. He said, "in a family, there cannot be one law for one member and another law for another. If a family cannot run on two different laws, how can the country run on different laws? We must remember that the Constitution guarantees equal rights for all and even the Supreme Court has called for uniform civil code." Modi said, those supporting triple talaq are doing grave injustice to Muslim daughters. He said, "triple talaq was abolished in Egypt 80-90 years ago, and if at all it is necessary, then why has it been abolished in Pakistan, Qatar, Jordan, Indonesia and other Islamic countries?" Modi said, BJP follows the path of 'santushtikaran' (satisfaction) and not 'tushtikaran'(appeasement). Soon after Modi's speech, Congress, RJD, NCP, Samajwadi Party and AIMIM strongly opposed the UCC alleging that efforts are being made to incite communities and crush pluralism and diversity in India. The All India Muslim Personal Law Board sat in a late night virtual conference and decided to submit its views to the Law Commission, since the Commission had sought views from all stakeholders. Jamiat Ulama-e-Hind secretary Niaz Farooqui said, at a time when the Law Commission is working on this issue, the Prime Minister should not have put pressure on it by making this pitch. He alleged that BJP is only trying to target Muslims by bringing the issue of uniform civil code. AIMIM chief Asaduddin Owaisi posed a question: "Will the Prime Minister end 'Hindu Undivided Family'? Because of HUF, the country is losing Rs 3,064 crore every year in taxes. On one hand, Modi is shedding crocodile tears for Pasmanda (backward Muslims), and on the other, his pawns are attacking their mosques, snatching away their livelihoods, bulldozing their homes and lynching them. If Pasmanda Muslims are being exploited, what is Modi doing about it?" In his speech, Modi had alleged that the opposition was only chanting Musalman, Musalman, but had they really been working in the interests of Muslims, then Muclims would have been lagging behind in education and employment. Modi said, Pasmanda Muslims are not even treated as equal because of vote bank politics. "Those who do vote bank politics have ruined Pasmanda Muslims. They are not getting any benefit, nor are they getting equal rights. They are considered untouchables. In UP, Bihar, south India, especially in Kerala, Andhra Pradesh, Telangana and Tamil Nadu, many castes were left behind because of the policy of appeasement", Modi said. The question is: Why are opposition leaders angry over Modi's remarks? Let me tell you the real reason. Had the PM spoken only about uniform civil code, the opposition parties would not have reacted strongly. Since Modi expressed sympathy about Pasmanda Muslims, the opposition leaders are furious. In India, Pasmanda (backward) Muslims constitute nearly 85 per cent of total Muslim population. Only 15 per cent Muslims belong to the upper class called 'Ashraf'. Among the 85 per cent Pasmanda Muslims are those who are considered low castes and they have remained exploited and oppressed since centuries. They are called Arzaal and Azlaaf. Modi has sympathized with 85 per cent backward Muslims, and has spoken about their upliftment. This is the reason why leaders from Owaisi to Mamata Banerjee are worried because they fear their vote banks could break. The manner in which Modi spoke about Pasmanda Muslims and the need for Uniform Civil Code, one thing is clear: UCC is going to be a major issue in 2024 elections. From the tone of the Prime Minister's speech, it seems the UCC will be implemented before next year's elections due in April and May. The opposition parties have realized this and they know if UCC is implemented by Modi, opposition unity or anti-Modi front may become a non-starter.
MODI'S ANTI-CORRUPTION 'GUARANTEE'
Modi then launched a stinging attack on opposition parties, and listed out, in public, the past and present scams allegedly involving some of the top opposition leaders. Describing the Patna conclave of 15 opposition parties as a 'photo-op', Modi accused opposition parties of being involved in scams worth at least Rs 20 lakh crore. He said, "nowadays a new word 'guarantee' has become popular and is gaining currency. All these opposition parties are a guarantee of corruption, they are a guarantee for scams worth lakhs of crores…Today I want to give you a guarantee. Our government will take action against all those involved in scams and corruption." Modi said: "If you see the history of parties which attended that (Patna) meeting, all those seen in the photographs are the guarantee for Rs 20 lakh crore worth scams. The scams of Congress alone are worth lakhs of crores, including coal scam, 2G scam, Commonwealth scam and other scams. If you want development of Gandhi family, then vote for Congress. If you want welfare for Mulayam Singh yadav's son, then vote for Samajwadi party. If you want welfare of Lalu's sons and daughter, then vote for RJD. If you want welfare of Sharad Pawar's daughter, then vote for NCP. If you want welfare of Abdullah family, then vote for National Conference. If you want welfare of Karunanidhi's family, then vote for DMK. If you want welfare of K. Chandrashekhar Rao's daughter, then vote for BRS. But if you want the welfare of your sons and daughters and grandchildren, then vote for BJP….Those whom people earlier used to call their enemies and abuse them, today then prostrate in front of them. Their panic shows the people of India have made up their mind to bring back BJP in 2024 elections." What Narendra Modi said was a point-by-point rebuttal of the campaign that was launched by opposition parties during the last several months. Modi's speech was a clear pointer about BJP's strategy for 2024 elections. The most serious charge levelled by opposition was that Modi government misuses CBI and ED against its political rivals. Modi listed out the corruption cases of opposition leaders, and made it quite clear that he has no intention of giving them any breather as far as corruption cases are concerned. CBI, ED actions against the opposition leaders will continue as usual. The second biggest charge made by opposition was that Muslims are suffering under Modi's rule, Modi government is anti-Muslims and this topic is being raised on international media. Prime Minister Modi made it quite clear that he is not going to be cowed down by such allegations. He has also made it clear that he would not allow politics going on in the name of welfare of Muslims and politics of appeasement will not be tolerated any more. To put salt to the wounds of opposition, Modi said, there must be a uniform civil code. All civil laws must apply equally to all communities in India. The third important point in Modi's agenda is that opposition unity will work to his advantage. All the opposition leaders had gathered in Patna to protect the political legacy for their sons and daughters. Opposition leaders had been saying, there is nothing wrong if Lalu Yadav projects his son Tejashwi, and Sharad Pawar projects his daughter Supriya Sule in politics. If Rahul Gandhi is Rajiv's son and if Akhilesh is Mulayam Singh Yadav's son, then where is the problem? Modi took the bull by its horns. He said, these leaders want the welfare of their children and family members, and if the people of India want the welfare of their own offsprings, they should support Modi and BJP. Another aspect of opposition politics is distribution of freebies at the time of elections, like free electricity, free water and free services. Modi also took up this topic in his agenda. He said, such leaders do this only for the betterment of their own parties, so that they can get commission or 'cut money'. Overall, Modi told his party workers how to convey his message to the people before the elections.