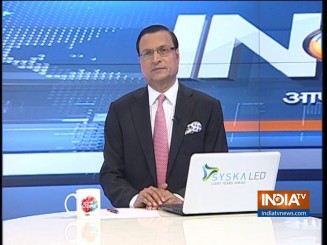 Prime Minister Narendra Modi is an astute and consummate orator-cum-politician. He has been raising the issues of national security and Kashmir in almost all his election rallies across India. Modi is questioning why the Opposition is raising doubts about the Indian Air Force air strike in Balakote (Pakistan). He is also asking why the Congress is supporting those parties which are in favour of 'two presidents, two constitutions' in Kashmir.
There is no doubt public anger over Congress, NCP and MNS leaders questioning the outcome of Balakot air strike. This was evident when I spoke to members of the public in Nagpur and Mumbai in our India TV show "Aap Ki Aawaaz". People openly criticized the Opposition leaders for raising doubts about the army's surgical strike and IAF's Balakot air strike.
Modi has felt the pulse of the people, and he is raising this issue in almost all his public meetings. The Prime Minister is consistently alleging that the Opposition leaders have been speaking "in the language of Pakistan".
Along with this, Modi has added the issue of Kashmir, where National Conference leader Farooq Abdullah and PDP chief Mehbooba Mufti have challenged the government to remove Article 35A and Article 370, which confer special status and legislative powers to Kashmir. These leaders have been openly advocating 'two PMs and two constitutions", and Modi is again tapping public anger over such statements from Kashmiri leaders. In reply, Congress and NCP leaders have been ducking these issues in their public interactions.
On Friday, nearly 150 retired officers of the Army, Navy and Air Force wrote a joint petition to the President, who is the Supreme Commander of Armed Forces, protesting against what they called 'politicization' of the armed forces by political leaders. Though the joint letter did not name any one leader of political party, it alleged that political leaders were trying to take credit for cross-border strikes.
The moment the joint letter appeared on media, two former chiefs Gen. S. F. Rodrigues and Air Chief Marshal N. C. Suri said their consent was not taken before including their names in the letter. Another former Army vice-chief Lt Gen M. L Naidu said he had not signed any such letter. Rahstrapati Bhavan sources said, the President is yet to receive the letter.
One of the retired officers, who drafted this letter, later said that for the first time in last 40 years, the government has given permission to the armed forces to carry out cross-border strikes. Naturally, this was a brave decision taken by a strong government, and the ruling party can take the credit and seek votes from the electorate. However, to describe the armed forces as "Modi Ki Sena" and to use images of Wing Commander Abhinandan in election posters is unacceptable.
Click Here to Watch Full Video | Get connected on Twitter, Instagram & Facebook