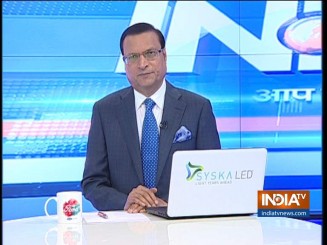 Prime Minister Narendra Modi is always at his best when he appears to be aggressive. Even as polling was going on in 91 Lok Sabha constituencies across India in the first phase, Modi, while addressing an election rally in Assam, said: "Which way the winds are blowing, can be seen from your enthusiasm. Today voting is taking place in the first phase in some parts of the country. From what we know so far, a zabardast (massive) wave for 'phir ek baar Modi Sarkar (Modi government again)' is visible."
Modi indicated that his government would retain power and he clearly said that he would ensure that the Citizenship (Amendment) Bill and Triple Talaq abolition law are passed in Parliament.
Modi's claim apart, let us see what happened on the first day of polling on Thursday. In the eight LS constituencies that went to poll in western UP, the polarization between Hindus and Muslims appeared to be complete. This can cause problems for Rashtriya Lok Dal chief Ajit Singh, who is contesting from Muzaffarnagar.
In several constituencies, diehard BSP voters were seen searching for their party's 'elephant' symbol, whereas the contestant of the maha gathbandhan was from RLD, which is part of the SP-BSP alliance. Clearly, the message about maha gathbandhan has not percolated to the ground level. Moreover, BSP supremo Mayawati put Muslim voters in a fix when she openly appealed to them not to vote for Congress candidates.
There are 13 LS seats in UP out of a total of 50 LS seats in India, where Muslims dominate with more than 30 per cent votes. There are 38 LS seats having 21 pc to 30 pc Muslim voters.
The contest is tough between the BJP-Shiv Sena alliance and Congress-NCP alliance in Maharashtra. In 2014 Lok Sabha polls, the BJP-Shiv Sena alliance had won 41 out of 48 seats, but the Congress and NCP had not joined hands then. This time the Congress-NCP alliance is giving the ruling combination a tough time.
The most surprising element in the first phase of poll was in the Kashmir valley.
Nearly 35 per cent voters cast their votes in this militancy-infested volatile area close to the Line of Control. I had been saying in the past and it has now been proved right that the common man in the valley wants development and peace.
By casting their votes, the Kashmiris have rebuffed their politicians who had been demanding two PMs and two constitutions. People in the valley want better roads, electricity and the youths want education and jobs. It is time that politicians in the Valley having leanings towards separatists should understand the pulse of the people.
All in all, the jury is still out as to which party is leading in the national sweepstakes.
Click Here to Watch Full Video | Get connected on Twitter, Instagram & Facebook