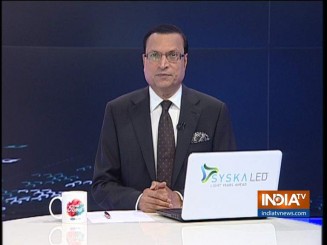 Former Jammu & Kashmir chief minister and JKPDP chief Mehboba Mufti has stoked a controversy by saying that Jammu & Kashmir's "relations with India will end" if Articles 35A and 370 of the Constitution, which provide special status and exclusive powers to the state regarding residency, are abrogated.
This comes in the wake of a remark by BJP President Amit Shah, who had said that the two articles of the Consitution "are still our issues. We need full majority in Parliament. By 2020, we will have majority (in the Rajya Sabha)".
Reacting to Amit Shah's remark, Mehbooba Mufti said: "If that turns out to be the case, 2020 will also be a deadline from Jammu & Kashmir to the nation. If you remove those terms and conditions on which J&K acceded to India, our relations with the country will also end."
On Wednesday, Finance Minister Arun Jaitley described Mehbooba's remark as 'absurd' and said that J&K will remain a part of India irrespective of what happens to Articles 35A and 370.
"The Instrument of Accession that Jammu & Kashmir's Maharaja signed in 1947 was not different from the ones other princely states signed when they merged their princely states into the Indian Union. Article 370 came into being in 1950 and Article 35A was incorporated into the Constitution in 1954 and this makes it clear that these subsequent developments were not prerequisites to J&K's accession to India."
Jaitley said: "territorial integrity is part of the nation's basic structure and can never be impacted by changes in the Constitution required by the country's needs…Will India ever become part of the UK if Westminster were to revoke the Indian Independence Act?"
Political sabre rattling apart, the main issue is that of national unity and integrity. Mehbooba Mufti, Dr Farooq Abdullah and Omar Abdullah are playing with fire by making intemperate remarks. They are aware of the historical facts, but are deliberately keeping the facts away from the people of the Valley. Since it is poll fever time, such remarks are part of the usual routine, and Jaitley has done the right thing in pointing out the legal ramifications.
Click Here to Watch Full Video | Get connected on Twitter, Instagram & Facebook